Tremblay, Joey
Director, playwright, producer, and actor, based in Regina Saskatchewan. Joey Tremblay grew up in South East Saskatchewan in the francophone hamlet of Ste. Marthe. As a child, he was inspired by his grandmother's theatricals in the family barn to create fantastical imaginary creatures. He received a B.F.A. in Drama from the University of Regina (1987) and a Diploma from the Vancouver Playhouse Acting School (1989). After working several years as a freelance actor, Tremblay co-founded Noises in the Attic, a theatre company mandated to produce and create new Canadian plays on the fringe movement circuit across Canada.
From 1996 to 2001, Tremblay was the Artistic Co-Director with Jonathan Christenson of Catalyst Theatre in Edmonton. During this period, he wrote, devised, co-directed and produced fifteen performance events and full-length scripts that toured across Canada, Great Britain and Australia.
Elephant Wake, a monologue co-written by Christenson and Tremblay, (Edmonton Fringe 1995) was performed in a revised version at the Catalyst in 1996 (dir. Christenson, designer Bretta Gerecke), with Tremblay as the protagonist Jean Claude. Elephant Wake is a lament for a dying French culture on the prairies, subsumed by an Anglophone hegemony. Jean Claude is the last member of a once extensive Catholic family to remain in the large ancestral home. But he insists on survival, creating a zoo full of creatures from papier-mâché-–an imaginative world that he can safely inhabit. Elephant Wake travelled to the Edinburgh Fringe in 1997 and to the Brighton Festival the following year. It was highly acclaimed by critics and awarded an Edinburgh Fringe First Award for Outstanding New Work. It was remounted by Catalyst in 2014, with Tremblay playing Jean-Claude as a 77-year-old who recalls his fraught experiences in an English school, his escapades with his Metis friend, and the demise of his family, insisting on the necessity of remaining strong, and working hard. Tremblay won a 2015 Sterling Award for Best Actor in a Leading Role for his performance. Elephant Wake is published by NeWest Press (Edmonton, 1999) in a collection entitled Ethnicities: Plays from the New West.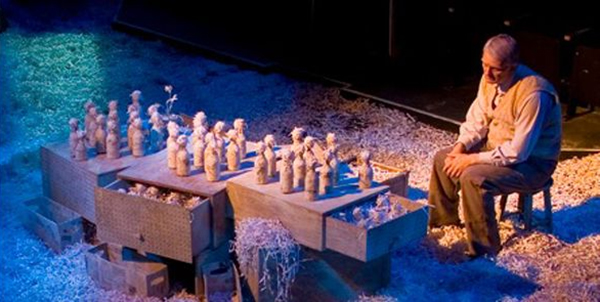 Joey Tremblay in Elephant Wake
Tremblay, Christenson, and designer Gerecke continued to work collaboratively with actors to produce highly imaginative works, typically set in Alberta. In the 1996-97 season, the Abundance Trilogy explored the dark side of life in Alberta through the lives of the misfits, grotesques, and marginalized, and invited the audience to participate as voyeurs of the gothic tales which unfolded. Other collaborations included My Perfect Heaven, Electra, and Songs for Sinners (1997/98 season), an unmusical musical morality play which examined the implications and contemporary manifestations of the deadly sin, Sloth.
Christenson, Tremblay, and Gerecke developed The House of Pootsie Plunket in 1999, and took it to the Edinburgh Fringe where it won the Scotsman's Fringe First Award. The play is a satiric recasting of "Bonanza"-style television melodrama in an Alberta environment, with Greek myth underpinnings.
In 2000, the collaborative team at Catalyst initiated The Blue Orphan, a collage of poetic text, imagery, and music, for the Edmonton Fringe, and reworked it for a premiere at the theatre in 2002. It subsequently travelled to the Edinburgh Fringe in 2002 and the Adelaide Fringe in 2004.
Following his tenure at Catalyst, Tremblay was Artist-in Residence at the Globe Theatre for eight years. From 2004 to 2008, he was commissioned by the Globe Theatre to write and direct, O George, The Alice Nocturne, and a new version of Elephant Wake.
For four years he was a member of the English Theatre Ensemble at the National Arts Centre from 2010, where he appeared in Mary Zimmerman's Metamorphoses (directed by Jillian Keiley, among other roles.
Since 2015, Tremblay is Artistic Associate of Curtain Razors, a theatre company in Regina that develops site-specific productions, and which produced two of his works: Carmen Angel (2016) and Bad Blood (2017, in collaboration with the University of Regina theatre department). Bad Blood chronicles his own traumatic experience with the health care system in Saskatchewan. Having contracted an ailment in Mexico, he was the victim of a series of misdiagnoses that nearly cost him his life.
All of his work in theatre has been predominantly in the sector of new play development through a wide range of processes and styles: from non-linear, interactive, environmental installations to more linear, narrative scripts, where his involvement has been that of a more traditional playwright. Many projects began as translations of classic work and then through re-writes and rehearsal, they evolved into hybrid interpretations.
Tremblay has received over thirty awards and nominations for outstanding direction, production and acting, including two Scotsman Fringe First awards for outstanding writing.
Source: Curtain Razors website
Profile by Anne Nothof, Athabasca University
Last updated 2021-09-27