Smillie, Ruth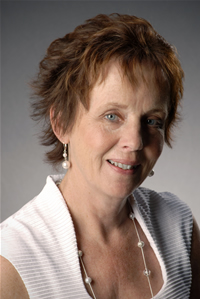 Ruth Smillie
Director, playwright, actor, and theatre educator, based in Regina Saskatchewan. Ruth Smillie was Artistic Director of the Globe Theatre from 1998 to 2019, when she assumed the position of Artistic Director Emeritus. She has made a considerable contribution to theatre in the city, the province, and the country, and has consistently encouraged the development of new works, and the production of a wide range of Canadian plays.
Born in Vanderhoof, British Columbia in 1954, she lived in Vancouver and Natick, Massachusetts, before moving to Saskatoon, Saskatchewan, in 1961. In 1974, she moved to Toronto to study acting at Ryerson University, and worked as an actor at 25th Street Theatre during the summers. After graduating from Ryerson in 1978, she acted in Vancouver, Calgary, Edmonton and Saskatoon, including the role of 10-year old Hilary in Hilary's Birthday by Joe Weisenthal (Green Thumb Theatre for Young People, 1979), which played for two years and then toured to England and Europe.
In 1981, Ruth Smillie was invited to start Persephone Theatre Youtheatre in Saskatoon. The company produced two school tours each year for children throughout Saskatchewan. While working as the Artistic Director of Persephone Youtheatre, she was asked to develop a theatre program for students at the Saskatoon Native Survival School in collaboration with Kelly Murphy and Maria Campbell. She taught and directed the theatre program at the Saskatoon Native Survival School until 1985. With Kelly Murphy she published a workbook, Story Circles which documents the methods used to create collective theatre with Indigenous teenagers.
In 1985, Smillie moved to Edmonton to work as Artistic Director of Catalyst Theatre. During her ten year tenure, the theatre company was awarded numerous Elizabeth Sterling Haynes Awards (Sterling Awards). While in Edmonton, Ruth taught an acting course at the University of Alberta and served on the Touring Advisory for the Canada Council for three years.
In 1993, she was the Visiting Fellow at King Alfred's College in Winchester; and in 1994, she was the Canadian Tutor Delegate for an international festival of young playwrights in Townsville, Australia. That same year, she was one of ten Canadian artists invited to participate in the Free Ideas Zone in San Francisco.
Ruth Smillie's plays for young audiences have been produced by theatres across Canada. Zeke and the Indoor Plants was published in Canadian Theatre Review 60 in 1989; Teenage Moms was published by Ginn Canada in Cues and Entrances, 2nd Edition, 1994.
In 1998, she was appointed Artistic Director and CEO of Globe Theatre. During her time at the Globe, Ruth has overseen two major renovations and an expansion of the theatre's facilities in the historic Prince Edward Building. She conceived and produced Lanterns on the Lake, an annual outdoor celebration of art and community that was a signature event for Regina for a number of years. She also initiated the Shumiatcher Sandbox Series which develops and presents new work and experimental theatre created by Saskatchewan artists. Two productions developed as part of the Shumiatcher Sandbox Series, Governor of the Dew by Floyd Favel and The Velvet Devil by Andrea Menard, were showcased at the National Arts Centre in the fall of 2002. Her directing work at Globe Theatre includes: A Midsummer Night's Dream, Sexy Laundry, A Christmas Carol, Six Dance Lessons in Six Weeks, Just So, Disney's Beauty and the Beast, Cinderella, Old Wicked Songs,Wit, Twelfth Night, The Secret Garden, The Velvet Devil, A Man for All Seasons, Amadeus,Elizabeth Rex, Honk! and The Wizard of Oz (with Michael Kennard).
Ruth Smillie was presented with the University of Saskatchewan Alumni Award in 2000, the Queen's Golden Jubilee Medal in 2002, the YWCA Women of Distinction Arts Award in 2004, and the Saskatchewan Centennial Medal. In 2008, she was named as one of ten Women of Influence by SaskBusiness Magazine. She is the mother of three grown children.
Source: Globe Theatre Website: www.globetheatrelive.com
Last updated 2021-10-22