Brodie, Leanna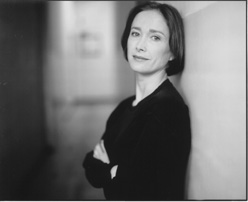 Leanna Brodie
Actor, playwright, translator and librettist, born in Winnipeg, Manitoba, educated in two-room country schools (Bewdley Public School and Plainville Public School) in rural Ontario, followed by Dr. M.S. Hawkins Senior Public School, and Toronto French School (High School). She graduated from the University of Guelph in 1989.
Her plays include: The Vic (Cahoots Theatre Projects and Theatre Passe Muraille 2000), which comprises four stories of eight women linked by a search party for a missing teenaged girl. It explores physical and verbal violence and brutality in the lives of the women and scrutinizes the choices made by the victims as closely as the perpetrators of violence.
For Home and Country (4th Line Theatre, 2002) is a pageant play with music which tells the story of the sustaining power of women's friendships, and of the history of the Women's Institutes which began as "the rural women's university" and became a powerful force for social and personal change. Brodie has dedicated the play "to the passionate and fascinating women who worked on it: and to all the brave, brilliant, complicated actresses who have cried: 'There are no parts!'"
Schoolhouse, set in 1938, about a young teacher connecting with a mysterious troubled boy in a rural school, premiered at the Blyth Festival in 2006. The Book of Esther (Blyth Festival 2010, dir. Leah Cherniak) considers the dilemma of a 15-year-old farm girl who has run away to Toronto, and stays in a safe house owned by a gay man (played by Brad Rudy), while her parents, a devout mother and struggling farmer, attempt to retrieve her.
Brodie's stage plays are published by Talonbooks.
She has also written radio dramas for the CBC: Invisible City (2001) and Seeds of Our Destruction (2006), a conspiracy thriller about agribusiness, GMOs, and the world's food supply
She was the first Canadian invited to the ACT/Hedgebrook Women Playwrights' Festival in Seattle (2002), and has been Playwright-in-Residence at the Blyth Festival, and twice at the 4th Line Theatre. In 2011, she was in the Tarragon Theatre Playwrights Unit.
In 2005, she was part of Playwrights' Workshop Montreal's bilingual playwrights' unit led by Suzanne Lebeau, as well as Centre des auteurs dramatiques's International Translation Residency, and the Tadoussac Translation Residency run by Playwrights' Workshop in 2006. She has translated Philippe Soldevila's Conte de la lune, adapted from the stories of Pere Calders. She has also translated works by playwrights Louise Bombardier, Hélène Ducharme, Sébastien Harrisson, Philippe Soldevila, Larry Tremblay, and David Paquet.
In 2006, she participated in Tapestry New Opera Works' Composer-Librettist Laboratory. She has written libretti for Opera on the Rocks by David Ogborn, and The Angle of Reflection by Anthony Young.
Her acting credits include The Refugee Hotel by Carmen Aguirre (Alameda Theatre Company 2010); PHAE (Factory Theatre Studio 2004); Malaysia Hotel (Cahoots 2001); and Isabella in Measure for Measure (Shakespeare in the Rough, Toronto 2001).
For eight years, she lived in Richmond British Columbia with her husband, Jovanni Sy. She is currently based in Calgary, where she is enrolled in a Master's of Fine Arts program at the University of Calgary.
Website: www.leannabrodie.com
Profile by Anne Nothof, Athabasca University
Last updated 2021-10-20