Bombardier, Louise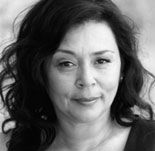 Louise Bombardier
Quebec-based actor and playwright, born July 11, 1953 in Sherbrooke, who has had a four-decade career in film, television and theatre. She studied theatre at Cégep de Saint-Hyacinthe, and in 1976, participated in the first of several collective creations, Chu pour rien, chu contre toute.
She has appeared in several works at the Théâtre de Quat'Sous, notably Poor Super Man (1995), Les années (1995), Aux hommes de bonne volonté (1993), Lion in the Streets (1991) and Pour adultes seulement/Adult Entertainment (1999).
She also appeared at the Théâtre des Cascades (Silence en coulisses/Noises Off, 1998), Théâtre d'Aujourd'hui (La salle des loisirs, 1997, for which she was nominated for a Masque Award) and in Le Petit Köchel for Théâtre Ubu, 2000.
Her performances are marked by a thorough understanding of the text and a delightful attention to detail. In 1999, she told Voir (Montreal), "This job is difficult and ungrateful, particularly for female actors of 40 who don't fit into the requirements of the star-system. The hardest, in all this, is to protect oneself against bitterness. An actor is so fragile. This fragility has to remain a quality. If, with time, actors harden and feel less the wounds which come with the job, they risk becoming bitter...Who are we but children. I think there is creation in that childlike state."
In 1995, she appeared at the Festival de Douai, France, in her own play Noëlle en juillet.. She has written thirty plays, many produced in Canada, France, and Mexico, including Ma mere chien (Théâtre d'Aujourd'hui 2005, dir Wajdi Mouawad), which portrays the last hours of a 70-year-old woman fighting against death until the arrival of her daughter.
Bombardier has also authored several radio plays, television scripts for young audiences, two film scripts, and collections of short stories.
Profile by Gaetan Charlebois.
Last updated 2020-05-08