Paquet, David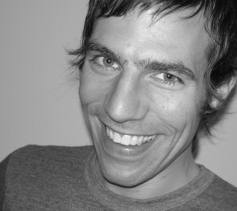 David Paquet
Playwright, based in Montreal Quebec. David Paquet graduated from the writing program at the National Theatre School of Canada in 2006. He participated in the International Seminar for Emerging Writers in Barcelona 2008.
His first play, Porc-épic was performed by graduating students at the National Theatre School in 2007 (dir. Frederic Dubois), and was subsequently produced in Germany, Mexico, Austria, France, and Belgium. In Canada it premiered at Espace Go in 2010 (dir. Patrice Dubois), and has subsequently been produced by Théâtre la Seizieme and UniThéâtre in 2012 in Vancouver and Edmonton. It won the Governor General's Award and le Prix Michel Tremblay in 2010.
In the style of Theatre of the Absurd, Paquet's works are characterized by the bizarre and unexpected. He begins with surrealist images and phrases, evoking the psychological landscapes of his characters. Porc-épic was inspired by images of a pregnant lady who smokes, a young couple tanning, a blow from a baseball bat, and the phrase "bonne fete qui, bonne fete moi." Four lonely individuals are invited to the birthday party of a voluble and ebullient young woman, with violent consequences. Like porcupines, they cannot get too close without hurting each other. But they keep trying.
Paquet's play for young people, 2 h 14 AM/FM was produced at la Maison Théâtre in Montreal in 2010, and broadcast as a radio play in Germany. His third play, Le Brasier was produced at Théâtre des Martyrs in Brussels in 2012. It was translated into English by Leanna Brodie as Wildfire, which enjoyed a world premiere by Upstream Theatre in St. Louis Missouri.
Le Brasier opened at Théâtre d'Aujourd'hui in 2016 (directed by Philippe Cyr), remounted in 2018 due to popular demand. It was translated as Wildfire by Leanna Brodie, who describes the play as "Somewhere between riotous black comedy and surreal Greek tragedy, this tender, ferocious, poetic, and tightly structured mini-epic is an exploration of heredity and fate that also leaves room for the choices we make. Doomed to the flames by their very nature, Paquet's seemingly ordinary characters nevertheless choose to struggle against their solitude in extraordinary ways, always managing to remain both relatable and amazing" (leannabrodie.com/wildfire).
Le Soulier premiered at Théâtre la Seizieme in 2019, winning a Jessie Richardson Award for best new play. It takes the mundane event of an eight-year-old boy's visit to the dentist to the extreme: what was originally believed to be a toothache is finally diagnosed as a bipolar condition. Le Soulier was translated by Leanna Brodie as The Shoe, which premiered at The Cherry Arts Space, Ithaca, New York in 2019.
Paquet also writes poetry and stories, and participates in slam and spoken word performances.
Profile by Anne Nothof, Athabasca University
Last updated 2021-10-20