4th Line Theatre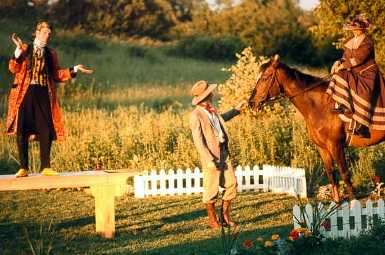 4th Line's 1996 production of Seton by Philip Kummel (photo: Wayne Eardley)
Company in Millbrook, Ontario, founded in 1992.
Its mandate is "to preserve and promote our Canadian cultural heritage through the development and presentation of regionally based, environmentally staged historical dramas."
It presents a summer season of work at its site, a wooded farmland where the outbuildings, animals, surrounding wildlife and countryside function as stage, backdrop and auditorium. The Company has also presented works in winter, moving them indoors occasionally, to accommodate the weather.
Script development and training of local artists takes place year round.
4th Line Theatre began with a work by Robert Winslow (the Company's first artistic director) The Cavan Blazers (subsequently revived by the company and now its signature production), about a 19th century religious conflict among local settlers. Subsequent works - like the collectively written The Moodie Trail and Shane Peacock's The Great Farini - have mined local history. In 1996, the Company took a lesson from Theatre Passe Muraille, and created The 4th Line Farm Show, to explore issues surrounding contemporary farm life.
It has also staged works which do not deal directly with the area but which look at issues affecting it: Rick Salutin's The Farmers' Revolt (1997); James W. Nichol's adaptation of Margaret Laurence's The Stone Angel (1998); and Leanna Brodie's Schoolhouse (2007/08).
The 2010 season featured Eldorado Town by Charles Haytor, which examines how Port Hope, a small Ontario town, played an important role in the history of the nuclear age, from the radium craze of the 1930s, when it was used for "healing" to the development of the atomic bomb and the beginnings of the Cold War. The play tells the story of the two Labine brothers who founded Eldorado Mining and Refining, and the discovery of a by-product of radium refining-ľuranium, used in nuclear power plants to this day.
The Road to Pontypool by Alex Poch-Goldin played during the 2009 and 2010 seasons. In the early 1900s, for forty years, 2500 Jews each summer travelled by train from Toronto to Jewish resorts in Pontypool, a small Ontario town. Told from the perspective of a 2005 reunion, the play includes 330 characters and 74 speaking roles.
Subsequent seasons included: The Berlin Blues by Drew Hayden Taylor (2011); St. Francis of Millbrook by Sky Gilbert; The Real McCoy by Andrew Moodie (2013). The 2015 season featured another play by Poch-Goldin--The Bad Luck Bank Robbers, a comedy about a 1961 robbery in the nearby town of Havelock. The 2017 season featured a history play entitled Bombers: Reaping the Whirlwind by David S. Craig (dir. David Ferry), and The History of Drinking in Cavan by Robert Winslow. Who Killed Snow White by Judith Thompson premiered in 2018. Focusing on issues of sexual violence and harassment amongst teenagers, it was a radical departure from the historical plays of 4th Line.
The current Managing Artistic Director is Kim Blackwell.
Website: www.4thlinetheatre.on.ca
Profile by Anne Nothof, Athabasca University
Last updated 2019-10-04