Poch-Goldin, Alex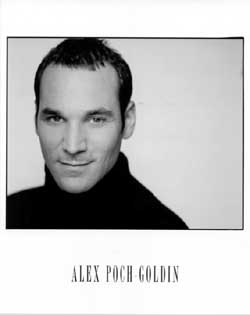 Actor/playwright born in Montreal in 1965, who has contributed to Canadian theatre for over thirty years. Alex Poch-Goldin studied acting at Dawson College and the Eugene O'Neill Theatre Centre before beginning his professional career at Centaur Theatre in Neil Simon's Biloxi Blues.
He has performed with companies across the country including Manitoba Theatre Centre, Canadian Stage, Vancouver Playhouse, Factory Theatre, National Arts Centre, and Obsidian Theatre among others. He has also appeared in several important premieres, notably The League of Nathans by Jason Sherman. He appeared in the Canadian Stage production of Wit (March, 2001), the Tarragon Theatre/NAC production of Scorched (2007) by Wajdi Mouawad, and the Obsidian Theatre production of Intimate Apparel (2008).
He has also appeared frequently on television, film, and radio.
Among his plays are This Hotel (Theatre Passe Muraille, 2001), Yahrzeit (2003 Toronto Jewish Playwriting Award), Cringeworthy (Theatre Passe Muraille), Jim and Shorty, Anybody and Nobody (Canadian Stage), Going (Buddies in Bad Times), The Gospel According to Jude, Godfrey, The Right Road to Pontypool (4th Line Theatre, 2009 and 2010), and The Bad Luck Bank Robbers (4th Line, 2015).
His opera, The Shadow was produced by Tapesty New Opera in May 2009.
Poch-Goldin has been nominated for the Siminovtich Prize in Theatre.
He was married to Kelly Thornton (Artistic Director of Nightwood Theatre), with whom he has one daughter. He currently lives and works in Winnipeg.
Website: www.alexpochgoldin.com
Information provided by Christopher Hoile
Other sources: Pat Donnelly, "This Hotel packs 'em in," The Gazette, Montreal, 17 May, 2001.
Last updated 2021-07-29