Riel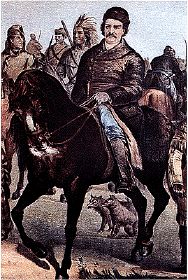 Historical play on the life of Louis Riel, written by John Coulter, and first produced by Toronto's New Play Society in 1950, with Mavor Moore as Riel, Vernon Chapman as Mr. Justice Richardson, and directed by Donald Harron. It was produced on CBC radio and television, and remounted by the National Arts Centre in 1975.
Riel is an ambitious epic drama in thirty scenes covering the significant events in Riel's life from 1869 to 1870, the 1885 Metis rebellion, and Riel's trial and execution in 1886. Like the history plays of Shakespeare and Shaw's Saint Joan, it shows the tragic dimensions of its protagonist, caught between political forces and personal conviction. He undertakes the mission of addressing the fears and needs of his community, but undermines this mission by executing his antagonist, Thomas Scott. Although he is motivated by his passion for justice, he is also driven by pride.
The life and death of Louis Riel have inspired a number of literary and dramatic treatments, particularly since the discovery of his diaries in 1970. The conflicting views of the Metis rebellion against the authority of the Canadian government find their focus in this enigmatic character. Was he a traitor or a martyr, a hero or a villain, inspired by God or insane? The priest's questions in Coulter's play, "Oh Louis, Louis Riel, what am I to make of you?" and "Who will decide what is to be thought right?" are fundamental. Only Riel's belief in the absolute right of the individual to live freely in his chosen country is indisputable in the play.
Riel portrays large historical events in representative scenes, showing the effect of these events on ordinary people: each constituency in the Red River settlement – Scots, Irish, Natives – is represented by a specific character. Coulter dramatizes the opposing points of view through debate in Riel, particularly in the trial scene. Like Bernard Shaw, he attempts to present complex political, religious, and social issues through the conflict of character, balancing one point of view with another, and leaving the final judgment to the audience.
Coulter uses parallel structure in his play to show patterns in history: each of the two Parts begins with a domestic scene, then moves into a wider arena; each Part portrays a rebellion and ends with Riel's defeat – the first presaging the last.
Commentary by Anne Nothof, Athabasca University
Last updated 2018-06-08