Masques Awards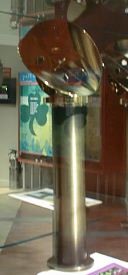 The Masque trophy
(photo: GLC)
Awards ceremony created in 1994 by the Académie québécoise du théâtre and Andrée Lachapelle to confer peer-prizes on plays, productions, performers, designers and companies from across Quebec. It was terminated in 2008 because of ongoing disputes.
Awards were given in Montreal, Quebec City and regional theatre categories. There was an audience-voted award for most popular production. Award were given for best English-language production and children's theatre production. There were also lifetime achievement acknowledgements.
The awards were created in reaction to what was perceived to be critical abuse of theatre artists, and after a group of several companies decided to boycott the annual critics' circle awards. To be eligible for an award, a company has to pay a fee (based on the size of the venue) and provide tickets for the adjudicators.
The prizes were conferred at a gala performance each year presented in two parts, one televised.
Among recipients of the prize were: Théâtre Ubu, Denis Marleau, Sylvie Drapeau, Rosemary Dunsmore, Claude Poissant, Théâtre du Nouveau Monde/TNM, Bulldog Theatre,Infinitheatre, Jean-Louis Millette, François Papineau and Théâtre les gens d'en bas.
In 1999, the Soirée and Académie ran into controversy over the exclusion of several brilliant actors from the lists of finalists, for the fees it charged companies to be considered, and for the fact that some noted houses were opting out of the system completely (ie: La Veillée). From the podium, as he accepted his prize for Don Quichotte (TNM, 1998), Dominic Champagne, who also happened to be the director for the evening's gala show, said it was time to "examine consciences." The Académie began a re-examination of its goals.
In June, 1999, the Académie named a new president, actor Catherine Bégin. When the nominations were announced in January, 2000, the organization also stated they had changed the way of doing things, going from panels of experts to juries. But controversy continued to dog the gala with lead actors who had turned in unanimously well-received performances not being nominated, as was the case, in 2002, with Anne-Marie Cadieux's Mlle Julie.
Profile by Gaetan Charlebois
Last updated 2019-02-22