duMaurier World Stage Festival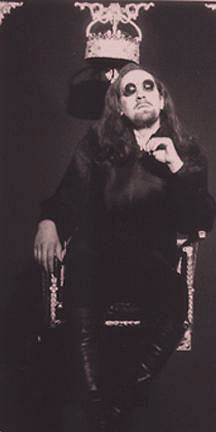 Robert Lepage in
Elsinore
, duMaurier World Stage Festival, 1996
Biannual festival held in Toronto, Ontario, at the Harbourfront Centre, founded in 1986.
The Festival brought together productions from across the country and around the world. From Canada, two artists, in particular, were regulars: Robert Lepage and Gilles Maheu (Carbone 14).
Among other participants were Edward Albee, Athol Fugard, Starving Artists Theatre Company (USA), Market Theatre (South Africa), Teatro Escambray (Cuba), Tarragon Theatre (Canada) and England's Fiona Shaw's one-woman rendition of TS Eliot's The Waste Land (directed by Deborah Warner).
The 2000 edition of the Festival included another work by Lepage, Soulpepper Theatre Company's The Mill on the Floss, Michel Tremblay's For The Pleasure of Seeing Her Again, Ronnie Burkett's Happy and Serge Boucher's Motel Hélène, along with works from Germany, England and Cuba.
Since the Federal Government legislation forbidding the sponsorship of tobacco companies (i.e., duMaurier) for cultural or sports events, the Festival re-invented itself as "World Stage", with an annual season running from September to May, and featuring national and international plays, music, dance, and interdisciplinary performance art. In 2017, the Festival was reduced to a three weeks, reprising past performances.
World Stage website: www.harbourfrontcentre.com/worldstage0910
Last updated 2020-08-12