Maheu, Gilles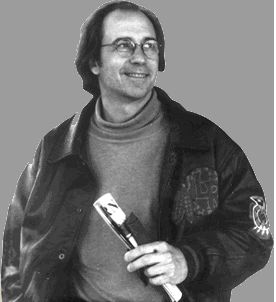 Gilles Maheu
Actor/playwright/director born in Montreal, Quebec in 1948, founder of Carbone 14.
Having escaped the privations of his youth, from 1967 to 1975, he lived, studied and worked in Europe, including with Etienne Decroux and Eugenio Barba. In Europe he began to build theories of a theatre that was fusionist; mixing text and physicality, and employing multimedia and interdisciplinary performers (singer/dancer/actor). There is also a debt, in the works of Carbone 14, to Herman Voaden and his "symphonic expressionism".
In 1975, he formed the company Les Enfants du Paradis that, in 1981, would become Carbone 14, one of the most important companies in Quebec and one of the few that was well-known outside of Canada.
From the beginnings of the troupe, Maheu exercised a physical rigour that would slowly supplant the text in terms of importance. Image became less illustrative and more the raison d'être of a given production. The images, in themselves, became more lucid and more and more reliant on a troupe of actors that had been trained à la Maheu.
By 1985, Maheu and his company began to win prizes. His productions, like Le Rail and Hamlet-Machine began to tour to international festivals. It was in 1990, however, that Le Dortoir exploded on the theatrical scene, ensuring Maheu's and Carbone 14's reputations. Perhaps the most perfect of Maheu's pieces to date, it was a frantic recollection of a Catholic upbringing in the early 1960s. The imagery and the brutal pace imposed on the performers were simply breathtaking.
In 1998, Gilles Maheu created L'Hiver, and directed the Paris, Canadian and British productions of the Luc Plamondon/Richard Cocciante musical Nôtre-Dame de Paris, which achieved an international success. In May 2001, he returned to Carbone after his Paris hiatus to present Silences et cris. His final work for Carbone, La bibliothèque ou Ma mort était mon enfance (2003), was heavily autobiographical.
He directed Don Juan in 2004) and Zaia for Cirque du Solei in Macao in 2008.
For his role in the film Night Zoo, he was nominated for a Genie Award in 1988. He is a recipient of the Governor General's Award for the Performing Arts (1992). In 1996, his work Les âmes mortes won the award for best Montreal production at the Masques Awards.
He has said of his work, "We have to rediscover the art of troubling, of overwhelming. I believe in a theatre of the emotions, of the body. The stage is the centre of fire, of a hurricane, of a storm where forces alive and dangerous confront each other. The things, the actors, their movements and their text are only the exterior medium for a hidden dialogue, of a mystery more profound that is at the heart of all theatrical creation and is the real 'text' of a presentation. The director has the dual roles of Mephisto and Faust at the gates of this mystery."
Profile by Gaetan Charlebois. Additional information by Kevin Collins and Anne Nothof.
Last updated 2021-04-12