Schultz, Albert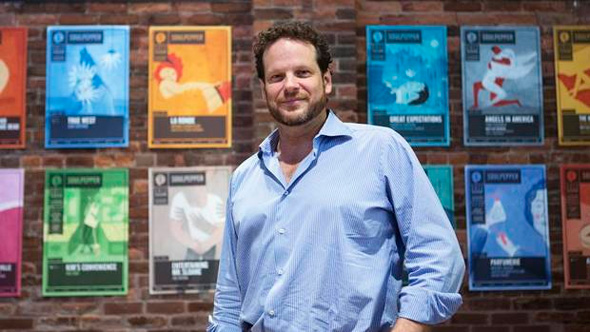 Albert Schultz.
Photo by Della Robbins, The Globe and Mail 27 July 13
Ontario-based actor and co-founder and artistic director of Soulpepper Theatre Company until January 2018. He was born in Port Hope in 1963, and studied at York University and the London Academy of Music and Dramatic Art.
He performed with the Stratford Festival young company under the direction of Robin Phillips before moving into a rich and varied career in television and film. At Stratford he performed as Touchstone in As You Like It, Edgar in King Lear, Feste in Twelfth Night, Creon in Oedipus, Mr. Puff in The Critic , and as an acclaimed Romeo.
He has also appeared in The Music Man (Citadel Theatre, 1995), Private Lives (Canadian Stage/Grand Theatre, London, 1996).
At Soulpepper he has performed in Don Carlos (1998), The Misanthrope (1998), Platanov (1999), Our Town (1999, 2006 & 2007), The Betrayal (2000), Uncle Vanya (2001, 2002 & 2008), Hamlet (2004 & 2005), The Real Thing (2006), and The Odd Couple (2008).
As the artistic director of Soulpepper, he has directed Death of a Salesman, Twelfth Night, As you Like It, Oh What a Lovely War, The Caretaker, Waiting for Godot, No Man's Land, A Chorus of Disapproval, The Time of Your Life, Angels in America, Parts I and II (2013), and Of Human Bondage (2014), for which he won a Toronto Theatre Critics' Award. He has also directed Susan Coyne's Kingfisher Days for the Tarragon Theatre.
Among his many honours are: The City of Toronto Barbara Hamilton Memorial Award, the DareArts Foundation Cultural Award, The Toronto Arts Council William Kilbourn Award, the Salute to the City Award and the Joan Chalmers National Award for Artistic Direction. For his work on behalf of UNICEF, he received the Queen Elizabeth II Golden Jubilee Medal. He has also received Honorary Degrees from Queen's and Bishop's Universities in recognition of his contributions to Canadian Theatre. In 2013, he was appointed Member of the Order of Canada, and in 2014, he received the National Arts Centre Award.
He was married to actor and playwright Susan Coyne, with whom he has two children. In January 2018, Schultz resigned from the position of artistic director of Soulpepper after sexual misconduct allegations.
Source: Soulpepper Theatre Company website.
Last updated 2018-01-05