Pochinko, Richard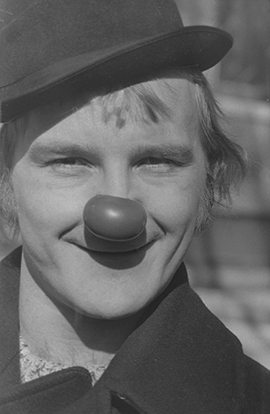 Richard Pochinko. Photo by Douglas Wallace.
Clown teacher known for creating the Pochinko method of clown training, sometimes called "Canadian Clowning."
Born in Selkirk, Manitoba in 1946, Pochinko was interested in theatre and circus from a very young age. He graduated from the Manitoba Theatre School at 18 years old, and dived into the performing arts, studying dance, piano, and film production in Toronto and Montreal. He spent his early career working at theatres across Canada, including as stage manager and regional director for the musical Hair. At 21, working in Halifax as a stage manager at the Neptune Theatre, Pochinko met Ian Wallace who would become, for a time, his romantic partner, and, for the rest of his life and long after his death, one of the most important chroniclers and interpreters of Pochinko's work.
Pochinko and Wallace moved to France where, in October 1971, Pochinko began training at École Jacques Lecoq in Paris. Dissatisfied with the authoritarian approach to clowning he encountered at the school (and perhaps asked to discontinue), he left in June of the following year, completing only one of the school's two years of study. The pair returned to Canada.
In 1972, the National Arts Centre supported a three-year project led by Pochinko, which set out to research clown, mask, and movement. This exploration was broad, delving into clown and mask from a variety of theatrical and circus traditions. A National Film Board documentary entitled To Be A Clown captures some of this work. Following this period of exploration, and aiming to synthesize what he had learned, Pochinko co-founded the Ottawa Theatre Resource Centre in 1975, which moved to Toronto and re-opened as the Theatre Resource Centre (TRC) a year later.
At the TRC, Pochinko continued to refine his ideas and practices. His work aimed to celebrate and empower his student clowns' unique "personal clowns" rather than homogenize them into one type of performer. To do this, he drew on various European and North American traditions, combining and modifying existing ideas and exercises with his own inspirations. Pochinko was influenced by his understanding of various Indigenous beliefs about clowning, particularly that the clown could serve an important role in society. Students of Pochinko were guided through personal explorations of the colours of the rainbow, imaginative exercises involving childhood and innocence, and the making and wearing of masks as a way to practice and understand clowning. Early on, Pochinko's approach was recognized for its therapeutic potential and began to be applied and adapted for use in various non-theatrical situations including health care and social work.
In addition to teaching, Pochinko was active as a director. He directed for the TRC as well as other theatres in Toronto including Native Earth Performing Arts, where he crossed paths with influential artists like Tomson Highway and Monique Mojica. He also helped shape clown and theatre pieces for many artists, especially former students, with a particular interest in the earliest stages of development. He continued to collaborate with Ian Wallace, directing his clown character Nion. This collaboration earned Pochinko a Dora Mavor Moore Award nomination for Outstanding Direction of a revue or musical in 1982.
Having been diagnosed with AIDS two years earlier, Pochinko died on June 3rd, 1989 at Casey House in Toronto. He continued to teach, direct, and create until his passing. Pochinko's work has been carried on by many practitioners, notably Ian Wallace, John Turner and Michael Kennard (of Mump and Smoot), Jan Henderson, David McMurray Smith, Karen Hines, and Sue Morrison.
Sources:
1. Burford, Della, et al. Richard Pochinko: Clown Thru Mask. Azatlan Publishing, 2018.
2. Cashman, Cheryl. "Richard Pochinko The friend, the teacher, the work, the man." http://windmillwebworks.ddns.net/cherylcashman/clownrichardpochinko.html
Accessed 17 Mar. 2020.
3. Coburn, Veronica, and Sue Morrison. Clown Through Mask : The Pioneering Work of Richard Pochinko As Practised. Intellect Books, 2013.
4. Henderson, Jan. "Richard Pochinko: Jan Henderson on Meeting her Clown Teacher." Fool Moon Productions. http://www.foolmoon.org/richard-pochinko
5. Hines, Karen, and Greg Morrison. The Pochsy Plays. Toronto: Coach House Books, 2004.
6. "History." Native Earth Performing Arts https://www.nativeearth.ca/about/history/past-shows/
Accessed 27 May 2020.
7. McLean, Dylann Marguerita. Not just Clowning Around: Clown Characters and the Transgressive Transformation of Urban Space. 2015. York University, PhD dissertation.
8. "Nominees." Toronto Alliance for the Performing Arts, https://tapa.ca/dora-awards/past-awards/nominees/
Accessed 27 May 2020.
9. "OBITUARY Richard Pochinko Talented Artist Developed Canadian Form of Clowning." The Globe and Mail, Jun 09, 1989.
10. "Richard Pochinko." Theatre Resource Centre http://canadianclowning.com/richard-pochinko/
Accessed 17 Mar. 2020.
11. Tello, Carlos. "Breaking the Glass." Carlos Tello Wordpress Blog, 9 Sept. 2014, https://carlosatello.wordpress.com/2014/09/09/breaking-the-glass/comment-page-1/
Accessed 27 May 2020.
Profile by Charlie Peters, University of Alberta
Last updated 2020-06-22