Dupuis, Roy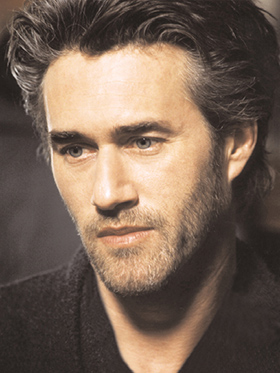 Roy Dupuis. Photo credit: Michel Gauthier Photography.
Popular, award-winning leading actor born in New Liskeard, Ontario to French-Canadian parents, in 1963. Roy Dupuis grew up in small towns in northern Quebec and Ontario. After the divorce of his parents, he attended high school in Laval, and graduated from the National Theatre School of Canada in 1986. He has acted in both French and English on radio, television, film, and theatre.
Early in his career, he appeared in several important stage productions, notably the premiere of Jean-Marc Dalpé's Le Chien (1987, dir. Brigitte Haentjens); Luc in Michel Marc Bouchard's The Orphan Muses/Les Muses orphelines (dir. André Brassard, 1985); Roméo in a Québécois adaptation of William Shakespeare's Roméo et Juliette (dir. Guillermo de Andrea, 1989); Adrien in Jeanne-Mance Delisle's Un Oiseau vivant dans la gueule (dir. Haentjens, 1990); and Lee in a Québécois version of Sam Shepard's True West (Nouvelle Compagnie Théâtrale / Théâtre Denise-Pelletier, dir. Haentjens, 1994).
Roy Dupuis also starred in the film production of Being at Home With Claude, and in many other notable films, including The Rocket, in which he played Maurice Richard (2005); Shake Hands with the Devil as Romeo Dallaire (2007, Jutra Best Actor Award); and Emotional Arithmetic with Christopher Plummer, based on a novel by Matt Cohen (2007).
His extensive television work includes Radio-Canada/CBC's Émilie/Les filles de Caleb, La Femme Nikita, and a series on Maurice Richard.
He returned to the stage after a hiatus of fourteen years in 2008 to perform in a French version by Jean-Marc Dalpré of Blasted by Sarah Kane (dir. Brigitte Haentjens 2008).
His performances are marked by a sensual physicality and an acute sense of timing.
He lives on a farm south-east of Montreal.
Profile by Gaetan Charlebois
Last updated 2020-04-02