Dey, Claudia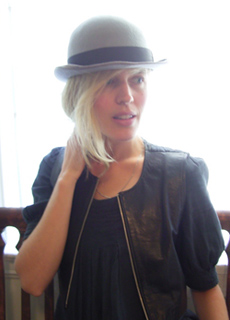 Claudia Dey
Playwright, born in Toronto Ontario in 1974. She studied English at McGill University, and theatre at the National Theatre School of Canada. For three years she was playwright-in-residence at Factory Theatre, during which time she wrote three works: Beaver (Horse Trade Theatre Group 2001), The Gwendolyn Poems (Factory), and Trout Stanley (Ship's Company Theatre). Her novel, Stunt, was published by Coach House in 2009.
Her plays have been translated into French and German, and produced internationally. The Gwendolyn Poems was nominated for a Governor General's Award and a Trillium Award.
The eponymous work Beaver is set in Timmins during a bleak winter, and portrays five years in the life of an orphan girl who is trying to survive both the weather and the women in her family. The setting of Trout Stanley owes a great deal to the playwright's experience as a bush camp cook for tree planters in the North. It is set in northern British Columbia, on the outskirts of a dying mining town, and focuses on twin sisters who are very different in every respect: "Sugar, a complicated, insecure waif who still wears the tracksuit her mother died in ten years prior, and Grace, a rough-and-tumble hellcat who owns the local dump." (Coach House website). Their domestic space is invaded by a mysterious drifter named Trout Stanley, searching for the lake where his parents drowned. Dey's works have been critically dubbed "Canadian gothic" because of their black humour, bizarre characters, isolated settings, and fascination with the macabre. They are highly literate, with complex, graphic soliloquies which reveal the fraught, dark lives of the characters--much like the plays of Judith Thompson.
Claudia Dey is married to musician Don Kerr, and has one son.
Last updated 2020-07-17