Oh, Sandra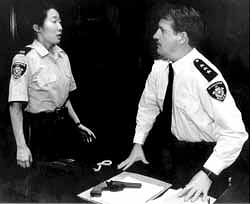 Actor born in Nepean, a suburb of Ottawa Ontario, in 1971 to Korean parents. She performed in her first play, The Canadian Goose at the age of 10. During high school, she was heavily involved in improv, and was a member of the National Champion Improv Team in the late 1990s.
She trained at the National Theatre School of Canada, graduating in 1993, and burst onto the professional scene with a stunning performance in David Mamet's difficult two-hander Oleanna at the Grand Theatre, London (1995). In 1996 she appeared at the Factory Theatre in Bill Harrar's Inquest.
She was already reaping accolades for her performances on television, especially as the prostitute turned writer Evelyn Lau in the CBC film The Diary of Evelyn Lau (1993), for which she won a Gemini for best actress, and a Cannes FIPA d'Or. She also appeared in the Canadian films Double Happiness and Last Night (1999) (for both of which she won Genie Awards).
Sandra Oh moved to Los Angeles in 1996, and since then has appeared in several TV series including: Arli$$, for which she won a Cable Ace Award ; Six Feet Under; and Grey's Anatomy for ten years and two hundred episodes until leaving the series in 2014. In 2006 she received a Golden Globe Award for her supporting role in Grey's Anatomy. In 2018, she received a second Golden Globe for Best Actress in a TV Drama for her riveting performance as an agent pursuing a psychopathic killer in Killing Eve. In 2021, she played the role of an embattled and conflicted university academic administrator in The Chair, a Netflix TV series, receiving critical accolades for her "masterful performance of empathy" (Hua Hsu. newyorker.com 23/08/21.
Oh's American film credits include: Dancing at the Blue Iguana (2000), Under the Tuscan Sun (2003), Sideways (2004), The Night Listeners (2006), and Blindness (2008).
She retains her connections to theatre, acting in Jessica Hagedorn's Dogeaters at La Jolla Playhouse; in Stop Kiss by Diana Son (1999) at Joseph Papp's Public Theatre in New York; and The Vagina Monologues (New York 2001).
Sandra Oh stresses the importance of stage experience for actors in film and television: "Essential, essential, essential, essential. You gotta do plays, you gotta do plays, you gotta do plays. Theatre will constantly and always feed me."
She is currently based in Los Angeles, but returns to Toronto for roles in Canadian theatre, TV series, and films.
In 2019, she was awarded a National Arts Centre Award which recognizes "work of an extraordinary nature and significance" in the past year.
Viewings: Behind the Scenes at the National Theatre School, dir. Luc Bourdon, Groupe Mediavision Inc., 1997 in which Sandra Oh speaks of her time at the School.
Profile by Anne Nothof, Athabasca University
Last updated 2021-08-24