Sablonnière, Blanche de la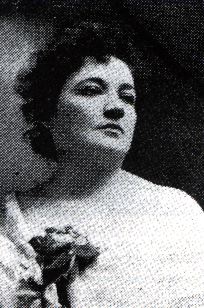 Blanche de la Sablonnière (Annuaire Théâtrale, 1908-09)
Actor born Angéline Lussier in St-Hyacinthe, Quebec c.1855, (date of death unknown) known as the "Canadian Sarah Bernhardt."
She made her theatrical début at L'Académie de Musique in Montréal in Pierre Lenoir et les chauffeurs, and her professional début with Le Conservatoire on May 16, 1887 in Marie Jeanne ou la femme du peuple (a role that would become a trademark).
After appearing with several touring companies, she performed from 1900 to 1916 at the new Théâtre National in Montreal, where she enjoyed great success in plays by Alexandre Dumas fils (Le Conte de Monte Cristo, Alexandre Dumas père (Les Trois Mousquetaires, and Prosper Mérimée (Carmen).
She was married to Joseph Tremblay, a theatre entrepreneur who founded a company for her called Théâtre de la Sablonnière. She retired into the hotel business with her husband after a theatrical career of three decades.
Last updated 2021-09-22