Théâtre National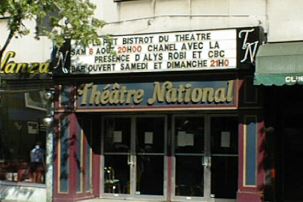 Theatre National
Venue in Montreal,Quebec, that has been, virtually since its opening, the centre of popular Quebec culture. It has a seating capacity of 670.
It was build by impresario Julien Daoust to house one of the city's first French-language repertory companies. Designed by Albert Sincennes and Elzear Courval, it opened on August 12, 1900.
At the beginning, it presented a new work per week to keep audiences coming back. More than 300 new productions were presented between 1900 and 1910. For a while, the theatre was home to the diva Blanche de la Sablonnière.
In the 40s, Rose Ouellette (La Poune) took over the house for her very popular variety shows.
The venue has served as a nickelodeon, a vaudeville house, a movie theatre, a classroom, a Chinese cinema, as home for the doomed Théâtre National Français (which survived all of six weeks), a Gay erotica cinema, and, in recent years, for the comeback of chanteuse Alys Robi and as the home for amateur Gay theatre (as it is in the heart of what is now Montreal's Gay Village).
Last updated 2009-09-15