Candy, John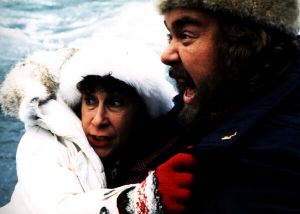 John Candy in his penultimate film, Canadian Bacon, with Rhea Perlman
Magnificent character actor and inspired clown born in Toronto, Ontario, in 1950, died in Durango, Mexico, 1994.
Though he is best known for his films (ie: Planes, Trains and Automobiles), he began on stage (at the Poor Alex and Tarragon Theatre as well as in children's theatre) and commercials before joining Chicago's Second City troupe in 1972.
He then returned to Canada to join Second City in Toronto where he created many of the characters which appeared in the television series SCTV (ie: Johnny LaRue).
Though the rest of his career was lived out in the United States, he became part owner of the Toronto Argonauts football team.
Last updated 2009-03-17