Caravan Stage Company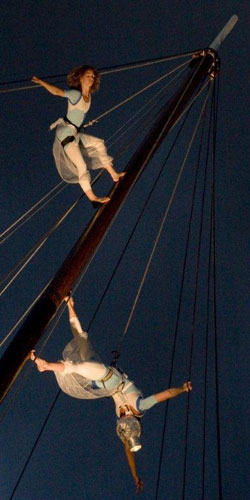 Utopian Floes (2008). Photo by Heiko Kupries.
Professional touring theatre company, performing on board the 30 meter Caravan Stage Tall Ship named the Amara Zee. It was founded in 1970, by Paul Kirby and Adriana Kelder as a one-wagon puppet show traveling on Vancouver island, which developed into a large theatrical organization with a 25 person company of actors, musicians, artists and technicians touring in six large wagons, each one pulled by a team of Clydesdales. The Company split into the Caravan Farm Theatre and the Caravan Stage Company when Kirby and Kelder undertook to create a StageBarge in 1994. After four years of labour and fundraising it began its journey to countries and waterways on the Eastern seaboard of North America, and then to Europe, including ports in Austria, Greece, Croatia and Turkey.
The shows are all original productions expressing the issues and concerns of people inhabiting the compromised environment of the 2lst century. The Caravan Stage Tall Ship Theatre integrates text, poetry, video, humour, music, movement, masks, props and special effects – much like the Cirque du Soleil with its athleticism and extraordinary costume design.
Productions include: Trapped: A Whale of a Tale (1997-99); The Dogs of Shakespeare (2000-01); Red Tide (2002-03); Vanishing Currents (2005-06). In 2009, the Company toured Utopian Floes -an experimental opera about global warming and cultural change set in 2033, a time of planetary decay and fantasy, when only a few humans have survived by seeking refuge on a Flying Moon Ship. For the 2016/17 season, Caravan toured Nomadic Tempest, beginning in Fort Myers, Florida, and travelling to St. Petersburg, Florida, New Orleans, Houston, Panama Canal, Nanaimo, Victoria, New Westminster BC, and Granville Island.
The celebration of its 50th anniversary was disrupted by the Covid-19 pandemic. The ship, Amara Zee underwent a refit in Richmond BC, and the Company began preparations for its next production, Virtual Rogues, "a story of love & loss in a prophetic forthcoming future 'sci-fi' world of 2052…a reality without any concern for ethical or species governance" (website).
Website: www.caravanstage.org
Last updated 2020-09-02