Chiasson, Herménégilde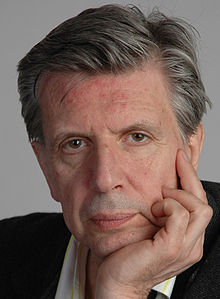 Herménégilde Chiasson
Born in St. Simon, New Brunswick in 1946, Herménégilde Chiasson has become one of the leading artists of modern Acadie. He holds several degrees, including a doctorate from the Sorbonne and a Masters of Fine Arts from the University of New York. He taught at the Université de Moncton, and worked as a researcher, journalist and producer for Radio-Canada before trying his hand at film production in 1985.
In the theatre he is the author of some thirty plays including Cap Enragé (Cape Enrage), l'Exil d'Alexa, La vie est un rêve, Aliénor, and Laurie, ou la vie de galerie. Two of his plays, Cape Enrage and Alienor are available in English translation in the 2003 anthology, Angels & Anger: Five Acadian Plays in Translation, edited by Glen Nichols. His work as a playwright, through which he addresses a wide range of audiences, has always been closely associated with Théâtre l'Escaouette, the Moncton-based company that has produced the majority of his plays. He has published seventeen books, including Mourir à Scoudouc, Vous, Miniatures, and Climats and Conversations, which won a Governor General's award in 1999. He has directed seventeen films including Toutes les photos finissent par se ressembler, Le Grand Jack, Robichaud, Épopée, Photographies and Ceux qui attendent.
In the visual arts Herménégilde has put together twenty-five individual expositions and participated in a hundred other group expositions. He has also helped to establish, and has chaired several artistic organizations, as the director of the Galerie d'art de l'Université de Moncton (1974), as founding president of publisher Éditions Perce_Neige (1984), as president of Galerie Sans Nom (1980), founding member of the Arberdeen Cooperative (1985), founding president of Les Productions du Phare_Est (1988), and president of the Association acadienne des artistes professionnels et professionnelles du Nouveau-Brunswick, AAAPNB(1993-1995).
In addition to the Governor General's prize, Chiasson has been recognized with numerous other awards such as the France-Acadie in 1986 and 1992, the Prix d'Excellence en arts cinématographiques (1992), the Prix d'excellence en cinéma (1992), and the Prix des Terasses St-Sulpice given by the poetry revue Estuaire. He has been made Chevalier de l'Ordre français des arts et lettres (1990) by the Government of France.
In August of 2003, Herménégilde Chiasson was named as the next Lieutenant Governor of the province of New Brunswick by Prime Minister Jean Chrétien, and served until 2009.
Profile by Glen Nichols, Université de Moncton
Last updated 2020-11-02