Rubin, Don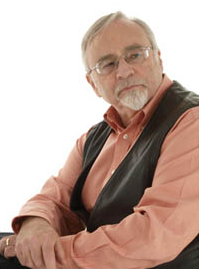 Don Rubin
Theatre historian, writer and critic, born in Brooklyn, New York, and based in Toronto. Don Rubin was a graduate of the High School of Performing Arts, the first performing arts high school in North America. At 15, he was an apprentice at the Capri Theatre on Long Island, and was cast as the young Peter in Francis Ledererís touring post-Broadway run of The Diary of Anne Frank. His first theatre review at 16 was for Show Business Newspaper about a new off-Broadway play by Patricia Joudry called Teach Me How To Cry. Rubin then studied theatre at Hofstra University with Shakespeare scholar Bernard Beckerman. After graduation, he became a journalist and arts critic with the New Haven (Connecticut) Register. His Masterís Thesis for the University of Bridgeport was on the emergence of the new Regional Theatre Movement in North America, which included Canadian theatres.
He joined the Department of Theatre at York University's Faculty of Fine Arts in 1968 and served as department Chair from 1979 to 1982. In 2005 he co-founded Yorkís MA and PhD programs in Theatre Studies, which he chaired for three years. He retired from York University as Professor Emeritus and Senior Scholar in 2017 after more than 48 years of teaching.
Don Rubin was executive editor of the six-volume World Encyclopedia of Contemporary Theatre, the largest international cooperative project in the history of cultural publishing (Routledge 1995-2000). He was the founding editor of Canada's national theatre journal, Canadian Theatre Review (CTR), which he edited from 1974 to 1982. Under his aegis, an active theatre book publishing program grew from CTR. Major titles have included the archival series Canada on Stage, and the historical series Canada's Lost Plays. Professor Rubin has also edited Canadian Theatre History: Selected Readings (Copp Clark, Toronto, 1996; 2nd ed. Playwrights Canada Press, 2004).
As a theatre critic, he has written for major journals, magazines and newspapers worldwide. For several years, he was a regular critic for the Toronto Star and CBC Radio He is an active member of the Canadian Theatre Critics Association.
Rubin has lectured on Canadian theatre in France, Russia, Bulgaria, India, Poland, Hungary and China. He is a former president of the Canadian Centre of the UNESCO-affiliated International Theatre Institute and served for six years as chair of the ITI's publications committee.
He is married to poet, novelist, and critic Patricia Keeney, with whom he has four children.
Source: http://wapitiwords.ca/about_don_rubin.html.
Last updated 2021-09-25