Earth Song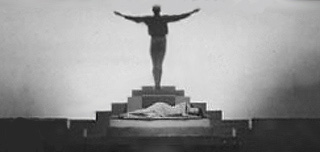 Earth Song
Earth Song: A Drama in Rhythmic Prose and Light was two-thirds completed by Herman Voaden while he attended George Pierce Baker's playwriting course at Yale University in 1930-31. Baker, whose previous playwriting students had included Eugene O'Neill, advised Voaden to write realistic plays like his Wilderness, warning the Canadian playwright that "he will go to seed if he continues in this path."
Strongly influenced by Wagner's operas, which Voaden saw first-hand at Bayreuth in the summer of 1928, Earth Song is the most symbolic, abstract and autobiographical of his early dramas, and represents his attempt symbolically to transcend the fact of man's mortality.
In the play's only on-stage characters, Adam and Eve, Voaden represented his fiancée Violet Kilpatrick (whom he had met in 1927 and would marry in 1935) as an ideal female archetype, and himself as a male lover archetype. Earth Song most strongly expresses Voaden's romantic belief that oneness with nature, human love and growth through suffering could lead men and women to self-perfection and "godhood."
Completed in July of 1932, Earth Song is written in five cycles of light and growth with each cycle consisting of four scenes: spring dawn, summer noon, autumn sunset and winter night. Adam and Eve, representing the promise of life in a new world, move through these cycles and life experiences and find completion, their "godhood," in themselves and each other.
Earth Song premiered at the Sarnia Drama League December 16 and 17, 1932, directed by Voaden. The production was well received by the critics who commented on the original and experimental nature of the production, particularly in the use of lighting. For Voaden, the play's synthesis of poetic speech, stylized acting and movement, powerful recorded music (selections from Brahms' First and Fourth Symphony), and effective coloured lighting achieved the goal of his "symphonic expressionist" aesthetic of providing "moments of intuitive illumination...moments in which perfection is glimpsed."
Commentary by Anton Wagner, York University
Last updated 2021-06-11