Guimond, Olivier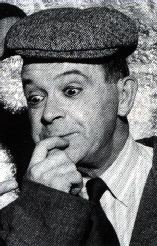 Olivier Guimond in his celebrated Tizoune Jr. character
Beloved and celebrated actor/entertainer born in Montreal, Quebec, May 21, 1914, died there November 24, 1971.
Olivier Guimond's parents were vaudeville artists (his father born in Ottawa, his mother in Scotland), and he was placed in private school from age seven to sixteen while they toured. He began to appear in cabaret and variety shows, performing with stars like Juliette Béliveau, Jean Grimaldi and Juliette Pétrie. One of his most popular characters was the delightfully oafish Tizoune Jr. (modelled after his father's Tizoune). By 1958 he was considered Quebec's favourite comic.
Guimond was a popular star of television very early in its Canadian history, and performed in several hit television series (notably Cré Basile), and as a soldier guarding a Westmount mansion in Bye bye 1970; but he continued to perform routines on stage as a solo act and in comedy and operetta.
He has been compared to Charlie Chaplin in the style of his performances, which were marked by physical humour, and a mobile face.
Profile by Gaetan Charlebois
Last updated 2021-01-15