Holland, Antony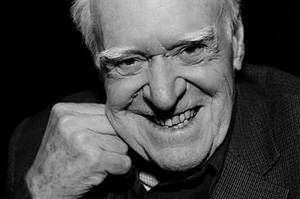 Antony Holland
Actor, teacher, producer, Antony Edwin Holland was born March 28, 1920, in the town of Tiverton in Devon, England; died August 15, 2015 at the age of 95 in Nanaimo, British Columbia. He exercised his love for the theatre at the age of 8, when he put on solo shows for his friends. He won a scholarship to the Royal Academy of Dramatic Art, but could not afford room and board in London. Instead, he attended evening classes at a local theatre school. At 21, he was conscripted into Britainís Royal Corps of Signals, and stationed in Egypt during the Second World War as a radio operator. There he staged shows in the desert for the troops. His production of the Emlyn Williamsí thriller Night Must Fall, in which he performed the lead role, toured North Africa to 50,000 soldiers, and was staged at the Royal Opera House in Cairo. During the war he met and married his first wife, Gusta Harman, a volunteer in the South African army.
After the war, Holland worked as assistant principal of Lawrence Olivierís newly formed Bristol Old Vic Theatre School. In 1957 he immigrated with his wife and family to Vancouver, where he eventually worked as a librarian at the Haney Correctional Institute in Maple Ridge, B.C. Here, he could again exercise his theatrical proclivities: He organized the young offenders into a crack troupe that won first prize in the provincial drama festival in 1961.
Holland was invited to start a theatre program at Vancouver Community College, the first school to train professional actors in B.C. The program relocated to Langara College in 1970 and expanded into a theatre arts department, named Studio 58 after the room number in which it rehearsed. Hollandís knowledge of Shakespeare and the classics, and his broad experience of working in every aspect of theatre, contributed to the making of well-rounded graduates. All of his students were required to work backstage before they could perform onstage. Several have started theatre companies, including Electric Company Theatre.
Holland retired from Studio 58 in 1985, and moved to Gabriola Island with his second wife, Catherine Cains, in 1990. There he founded Gabriola Theatre Centre. In his 80s, he continued to act in film (McCabe & Mrs. Miller, Battlestar Galactica), television, and theatre (King Lear in 2002, and Shylock in 2008 for Studio 58). His biggest success, however was as the dying sociology professor in Tuesdays with Morrie (Arts Club Theatre 2006, dir. Bill Millerd), for which he won a Jessie Richardson Award.
Among his other awards are a second Jessie for acting, and a third for lifetime achievement; a Union of B.C. Performersí Sam Payne Award for humanity, artistic integrity and encouragement of new talent; and induction in the B.C. Entertainment Hall of Fame. Langara College has a scholarship in his name, and in 2014 he was made a Member of the Order of Canada.
Holland's daughter, Rosheen Holland, has said that her fatherís great gift was communicating his belief in the power of theatre to younger generations: ďHe showed how it can teach us and how it can be a progressive force in society.Ē
Further reading: James Hawkins, Antonyís Private Parts, Bliss Publications, 2011.
Source: Martin Morrow, Globe and Mail 18 Aug 2015.
Last updated 2017-05-15