Lévesque, Robert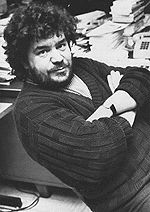 Robert Levesque
Montreal, Quebec critic, born in Rimouski in 1944, whose time at the daily Le Devoir was tempestuous.
Robert Lévesque graduated from Laval University and began at the newspaper in 1975 after having worked for other media and in the theatre. From the start, he was noticed for direct, sometimes brutal, but always erudite reviewing. His turns of phrase were brilliant and his knowledge of all things theatrical lead him into almost immediate battle with the theatrical community (and in many cases with his colleagues, some of whom he openly scorned).
Lévesque is fundamentally concerned with the state of the often shifting concerns of Quebec theatre and so he has little time for the parochial and passing ideologies of some of the nation's writers. His position was always to compare the work in this country to the great works of others and not let a bad production slide if it didn't live up to those standards; he did not coddle the emerging theatre even though he was, often, the first to trumpet praises for a young artist.
However, many in the community are certain that he was largely responsible for the huge rift that developed between the theatrical community and the critical one which caused ticket privileges to be cancelled and saw artists boycotting the annual critics' circle awards (which soon were replaced by a peer's awards).
His departure from the Devoir in 1996 was a messy affair with some suspecting he had sabotaged an article in the paper. Neither the paper nor the writer commented in detail on the incident. From 1997 to 2006, he reviewed plays for radio and for Ici Montréal.
He did not distanced himself entirely from controversy, however. A spring, 1999, review of Wajdi Mouawad's Rêves, ferociously went after the playwright for being too ostentatious, in his works, with his devout faith.
In 2001, he was at the centre of things again when it was revealed that Robert Lepage, who was to give a rare press conference to discuss his participation in the Festival de Théâtre des Amériques (now Festival TransAmériques), had cancelled because M. Lévesque and two other theatre journalists who had been blacklisted by Lepage, would attend the conference.
He directed the 2009-10 Laboratoire du Théâtre français, French Theatre's annual theatre research and development workshop, whose theme for the year was "Theatre criticism as agent of progress and protest."
Profile by Gaetan Charlebois
Last updated 2020-03-31