Live Five Theatre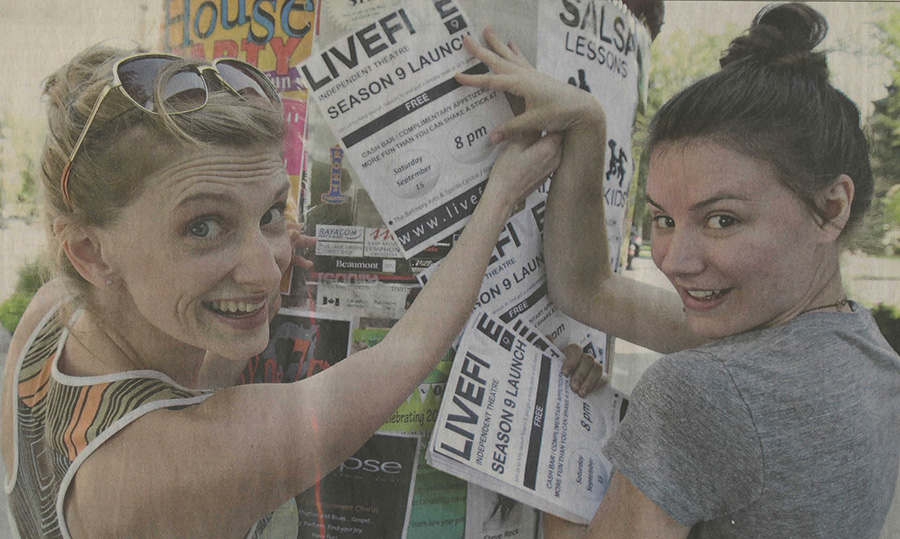 Live Five Theatre, with Kristina Hughes and Kate Herriot. Photo by Richard Marjan, Saskatoon StarPhoenix. 12 Sept 2020. C1
Theatre organization in Saskatoon, Saskatchewan founded in 2004. Originally formed as a collective of five theatre companies which would together produce a subscription season, Live Five has evolved to be run by a board of directors that programs a season of five or more plays drawn from an open call for submissions from independent companies.
Inspired by See 7 in Vancouver, BC, Live Five's collective approach was intended to take the administrative and audience-building pressure off of independent companies who could not produce more than a single show each season. The original five companies were Theatre Ecstasis, Wide Open, By the Book Productions, 400 Lbs. Of Sunshine, and Last Exit Theatre. Each of these companies had previously produced independently and maintained its own mandate. With an aim of producing shows that other companies in Saskatoon would be unlikely to produce, the collective model was intended to encourage artists to stay in Saskatoon rather than leaving to pursue artistic opportunities elsewhere. Productions at Live Five have varied wildly from world premieres to canonical classics such as Shakespeare, Chekhov, and Miller, as well as contemporary American and British works, radio plays, musicals, interdisciplinary experiments, and puppetry.
Supported by the Refinery Arts and Spirit Centre - what would become On the Boards Productions in 2006 - logistical, technical, publicity, and administrative support is provided to allow artists to focus on making theatre. Almost every production has taken place at The Refinery, a versatile black box space built in the Emmanuel (formerly St. James) Anglican Church Hall in Saskatoon's Nutana neighbourhood. A handful of productions have used other spaces in the city.
Live Five has become an important platform for the development of new work. Many productions that have had successful Fringe runs have gone on to further development through productions at Live Five, often allowing them to explore more ambitious designs and production values. Examples of such productions include Two Unruly Gentlemen's Two Corpses Go Dancing, Neverending Highway's Dr. Frightful Presents: Dead Air, Gumshoe Productions' Peach and Theatre Howl's Aiden Flynn Lost His Brother So He Makes Another. Aiden Flyn, for example, had an award-winning cross-Canada Fringe run in 2014, and toured festivals across Canada in 2016, including Centaur Theatre's Wild Side Festival, Regina's IPUFF+ Festival, and Swift Current's Chautauqua Festival. In 2016 it ran at Live Five, this time with an expanded set and a live band in place of the recorded soundscape of the touring production.
Live Five has also been an important stop for touring productions and a springboard for productions to tour internationally. In 2016, Live Five was the Saskatoon stop for the national tour of Falen Johnson's Salt Baby which also played at the Talking Stick Festival, Globe Theatre, Gwaandak Theatre, and elsewhere. Ground Cover Theatre's Displaced went from a fringe tour in 2015 to a 2017 Saskatchewan tour featuring runs at Live Five and Regina's Globe Theatre before being selected as one of four highlighted international productions at the M1 Singapore Fringe Festival in 2018.
Since the creation of the Saskatoon and Area Theatre Awards (SATAs) in 2008, Live Five productions have been honoured each year. Between 2008 and 2020, Live Five productions have received forty-two SATAs.
Sources
"About Us." On The Boards, https://ontheboards.ca/about-us/. Accessed 26 Dec. 2020.
"Aiden Flynn Lost His Brother So He Makes Another." Theatre Howl, https://theatrehowl.com/projects/6491344 Accessed 26 Dec. 2020.
Fuller, Cam. "A question of identity." Saskatoon StarPhoenix, 12 May 2016, p. C1.
------- "Dr. Frightful brings DEAD AIR to Live Five." Saskatoon StarPhoenix, 18 Nov. 2015, p. B2.
------- "Even the undead need some fun in their lives." Saskatoon StarPhoenix, 23 Mar. 2015, p. B1.
------- "Peach grows from Fringe play to headliner." Saskatoon StarPhoenix, 25 Jan. 2018, https://thestarphoenix.com/entertainment/local-arts/peach-grows-from-fringe-play-to-headliner. Accessed 27 Dec. 2020.
"History and Mandate." Ground Cover Theatre, http://www.groundcovertheatre.com/about. Accessed 26 Dec. 2020.
"Past Recipients." Saskatoon and Area Theatre Awards, https://www.satawards.ca/past-recipients. Accessed 18 Dec 2020.
Paulson, Joanne. "Refinery stages season of theatre." Saskatoon StarPhoenix, 15 Sept. 2004, p. C1.
Putnam, Chris. "Saskatoon play chosen for Singapore festival." University of Saskatchewan Arts & Science, https://owl.purdue.edu/owl/research_and_citation/mla_style/mla_formatting_and_style_guide/
mla_works_cited_electronic_sources.html. Accessed 26 Dec. 2020.
Silliphant, Craig. "Indie Theatre, The Sequel." Saskatoon StarPhoenix, 29 Sept. 2005, p. P16.
Ward, Caitlin. "Indie On The Rise." Saskatoon StarPhoenix, 27 Sept. 2007, pp. 17-18.
Profile by Charlie Peters, University of Alberta.
Last updated 2021-01-05