Lost & Found Theatre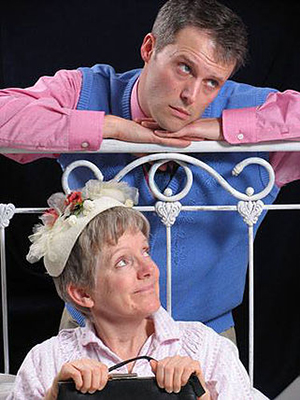 Vigil (2005). Kathleen Sheehy and Andrew Lakin. Photo by Tom Vogel.
Theatre company, founded in 2004 by six theatre professionals (Mike Peng, Kate Holt, Alan K. Sapp, Kathleen Sheehy, Nicole Lee Quesnel, and Andrew Lakin) as a theatre production collective, based in Kitchener-Waterloo Ontario. The ensemble has been highly collaborative in nature, initially operating on a consensus model. It had an artist-driven focus, and a mandate to produce engaging, entertaining and meaningful work.
It offered theatre training for community actors and directors, and summer theatre camps for children. In 2009, it established a Young Company.
Productions included: Radio Leacock (2004), developed collaboratively by the ensemble; Vigil (2005) by Morris Panych; Cotton Patch Gospel (2005) book by Tom Key and Russell Treyz, music and lyrics by Harry Chapin; Eleemosynary (2005) by Lee Blessing; The Anger in Ernestine and Ernestina (2006) by Leah Cherniak, Robert Morgan and Martha Ross; Falling: A Wake (2007, world premiere) by Gary Kirkham; Some Assembly Required by Eugene Stickland; The Tinkerís Wedding (2008) by J. M. Synge; Possible Worlds (2009) by John Mighton; and The Trojan Women (2010, with the Young Company). In 2011, Lost & Found produced Harvest by Ken Cameron, and Pearl Gidley by Gary Kirkham; Cariboo Magi by Lucia Frangione in 2012; and How It Works by Daniel MacIvor and Boiler Room Suite by Rex Deverell in 2014. Michael Peng and Christy Ziss starred in Outside Mullingar by John Patrick Shanley in 2019 (dir. Douglas Beattie), the Company's final fully staged production. Members will continue to support local theatre through staged readings and collaborations.
Lost & Found also produced an annual family Christmas show.
The Company performed in the Registry Theatre and the Conrad Centre for the Performing Arts in Kitchener-Waterloo.
Administrative Manager is Kathleen Sheehy.
Website: www.lostandfoundtheatre.ca
Last updated 2019-05-02