Fréchette, Louis-Honoré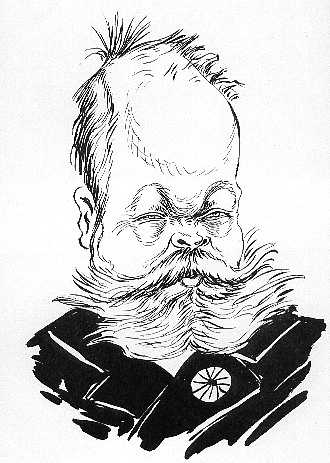 Hugo-le-Petit's drawing of Louis Fréchette
Playwright born in Lévis, Quebec in 1839, died in 1908.
He began writing plays in his student years, and was already being performed before he left university. His writings would be influenced as much by Shakespeare and Longfellow as by Victor Hugo.
His first major work, Félix Poutré, was a huge success at the Salle de Musique de Québec in 1862. With its long political tirades, the work's success had much to do with the political climate at the time and the rise of Nationalism in the province.
Fréchette lived in self-imposed exile in Chicago from 1866 to 1871, joining the large French colony there.
He returned to Quebec and enjoyed relative success with the premiere of Papineau (L'Académie de Musique, Montreal, 1880), which was declared a literary and patriotic success despite the fact that its structure was awkward and its effect could never equal the punch of Félix Poutré. In each of his plays, the pro-Nationalist (Patriotes) messages were hammered home, but with such lush lyricism that he was capturing the hearts of much of the cultural élite. He and his works had their enemies, of course, and he was attacked for using the sacred theatre as merely a pulpit for political propaganda. A journalistic effort was mounted to destroy Fréchette but may have just tired him.
His works mellowed, somewhat, with the turn of the century when his play Veronica was performed at the Théâtre des Nouveautés. This tragedy was praised for revealing Fréchette as something more than a speechmaker. The tone of the work was inspired by the recent visit to Montreal of Sarah Bernhardt whose performances Fréchette never missed.
However, after his death, correspondence was discovered that revealed Veronica's plot had been lifted from other sources and merely recomposed in verse.
Despite this, Fréchette is considered an important figure in the creation of a Quebec theatre. The larger hall of the Grand Théâtre de Québec, is named in his honour.
Readings: Louis H. Fréchette. Félix Poutré. Montreal: Leméac, 1974.
Profile by Gaetan Charlebois
Last updated 2020-03-27