Momentum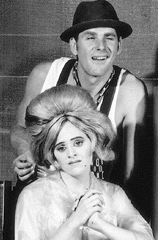 Momentum's Oestrus, 1996
Exploratory theatre company in Montreal, Quebec, founded in 1990 by Jean-Frédéric Messier, Dominique Leduc, Stéphane Demers and Marcel Pomerlo.
The company's mission is to explore the theatrical vocabulary through acting, movement, voice, improvisation, music, space and writing. Their productions are multidisciplinary and the language they use is current and aimed at the younger generation. The goal is to shake up the spectator by plunging the audience into the centre of the piece and forcing them to accept their role as protagonist.
They have been involved in five works: Le Dernier délire permis (1990), Nuits Blanches (1991), Helter Skelter (1994), Oestrus (1996) and 12 Messes pour le début de la fin des temps. All of the productions have been revived or toured extensively.
Helter Skelter, a gigantic work that took place on two storeys of a renovated library, placed the audience in and around the action and discussed the iconography of the 1960s that has given birth to the generation with which the company is primarily concerned: a generation surrounded by images of violence, pounding music and a culture built on sound bites and three-minute music videos. The imagery was built around the mythos of the 60s (ie: the murdered foetus of Sharon Tate and Roman Polanski, Timothy Leary etc.) and the technical aspect of the production was as integral to the presentation as the actors.
12 Messes pour le début de la fin des temps was actually a series of 12 separate works mounted at venues in and around Montreal (abandoned hospitals, garbage dumps, tour buses), one a month during 1999, aimed at capturing the zeitgeist and, again, redefining culture, creation and theatre.
Website: www.momentumenligne.com
Profile by Gaetan Charlebois
Last updated 2018-12-20