Morse, Barry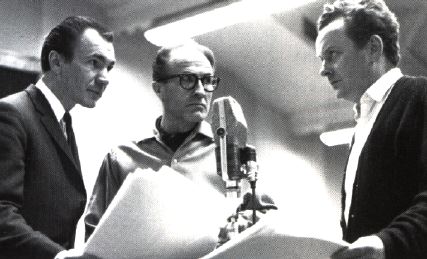 Silver-tongued actor/director, born in London, England in 1918, who had a seven-decade, 3000-role career in theatre, film, radio and television (where he was best known for his performance as the relentless detective in the series The Fugitive). He died in 2008.
He studied theatre at the Royal Academy of Dramatic Art in London, before performing in the city's West End, on the BBC and in the provinces. He came to Canada in 1951, and was immediately performing in live radio and appeared on CBC television soon after, first living in Montreal (while he performed, on stage, at the Mountain Playhouse), then Toronto (where he worked at the Crest Theatre).
He was briefly (1966) artistic director of the Shaw Festival, but during his time managed to draw the world's attention to the festival and bring in name actors. He was also a founding member of Theatre Compact, a troupe of Canadian stars who performed in Toronto, 1976-78.
He performed around the world, including lead roles in The Private Life of George Bernard Shaw (1995); Love Letters ; a US national tour of Pinter's The Caretaker as Davies; and his one-man show Merely Players, which premiered in 1959, and enjoyed a Canadian national tour in 1984.
He was married to actor Sydney Sturgess (from 1939 until her death in 1999), and they had two children, Melanie and Hayward.
His autobiography, Pulling Faces, Making Noise was published in 2004, and his memoir about acting, entitled Remember With Advantages:Chasing 'The Fugitive' and Other Stories from an Actor's Life was published in 2007.
Website: www.barrymorse.com
Last updated 2012-03-06