Nickinson, John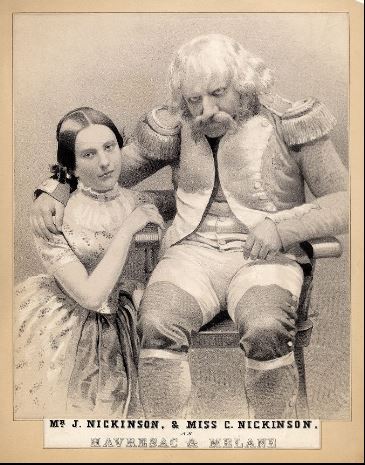 John Nickinson
Actor-manager largely responsible for stimulating the growth of professional theatre in Toronto, Ontario in the mid-nineteenth century. John Nickinson was born in London, England in 1808 and died in Cincinnati, Ohio in 1864.
He was in the army at the age of 15 as a drummer, then a sergeant by 1825, and performed with the garrison amateurs at the Theatre Royal in Montreal. After jos discharge, he performed professionally for the first time in the United States.
In 1851 he created a thirty-four member company, with his four daughters, including Charlotte as a popular leading lady, which performed in Toronto's Royal Lyceum Theatre. In 1852, Nickinson staged seventy pieces at the Lyceum, mostly British farces and comedies, over a thirty-one night period. From 1853-59 he was manager of the Lyceum Theatre where his resident company continued to present a wide variety of plays -- from Restoration comedies to the popular Uncle Tom's Cabin. He was also manager for the Royal Metropolitan Theatre in Hamilton in 1853, and his Lyceum troupe often toured there. He gave up management during the recession of the late 1850s, and moved to the United States to act and to form another company in Utica and New York City.
Source: The Oxford Companion to Canadian Theatre, eds. Eugene Benson and L.W. Conolly. Toronto: Oxford UP, 1989.
Last updated 2021-07-12