Nuñez, Marilo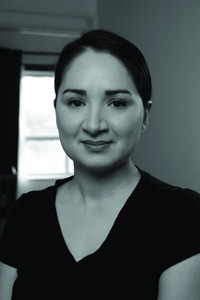 Marilo Nuñez
Playwright, director, actor, and producer, born in Chile in 1974. She graduated from the Acting Program at the Ryerson Theatre School in 1996, and has been working in Canadian theatre for over twenty years. She was the founder of Alameda Theatre Company, and Artistic Director from 2006-2014, where she initiated programs such as the De Colores Festival of New Works, Nueva Voz: A Latino Youth Initiative, and El Barrio, an online database of Latino Canadian artists.
Her acting credits include the role of a seven-year-old Chilean refugee to Canada in Carmen Aguirre's Chile Con Carne (1999, dir. Guillermo Verdecchia).
She has been playwright-in-residence at Tarragon Theatre and Aluna Theatre (2013-2016).
Her play, Sangre:Redux, is an adaptation loosely based on Garcia Lorca's Blood Wedding (2011 De Colores Festival of New Works, Cahoots Theatre Projects 2010-11 Hot House Playwrights' Unit). In 2012, her play Three Fingered Jack & the Legend of Joaquin Murieta (SummerWorks/Alameda Theatre 2006) was published in Fronteras Vivientes (Playwright's Canada Press, 2013, ed. Natalie Alvarez), the first anthology of Canadian Latin American playwrights. In 2017, her play El Retorno/Return premiered at The Theatre Centre. Set in 1979, it was inspired by her parents' resistance to the autocratic Pinochet regime in Chile, and their flight to Europe and Canada.
Last updated 2019-11-06