Pellan, Alfred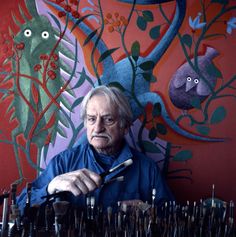 Alfred Pellan
Modernist painter and theatre designer, born in Quebec City, Quebec in 1906; died in Laval, Quebec, 1988.
Alfred Pellan studied at Quebec's École des Beaux Arts, and won the Quebec government's first fine arts scholarship in 1926. He then studied and lived in Paris until 1940.
In the mid-40s he began to design costumes and sets for theatre including a 1946 production of Shakespeare's La nuit des rois/Twelfth Night for Les Compagnons de Saint-Laurent. During this period he came to maturity. His imagery became more surreal, broadly coloured and textured.
He won many awards, was featured in exhibitions in Canada and abroad, and is now recognized as one of the most significant artists in Canadian art history. His gigantic high-relief mural hangs in the Grand Théâtre de Québec.
Profile by Gaetan Charlebois.
Last updated 2020-03-30