Plutonium Playhouse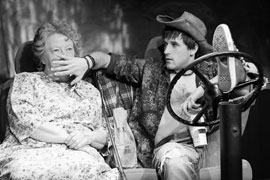 Deborah Allen and Ryan Doucette in Cloudburst.
Photo: Shaun Simpson
Theatre company in Halifax, Nova Scotia, founded by Thom Fitzgerald and Lee-Anne Poole in 2010, in a famed music recording studio in the city's North End. The beginnings of Plutonium coincided with a groundswell of professional theatre activity in Halifax.
The company's primary focus is on new Canadian plays. Plutonium's first production was Thom Fitzgerald's Cloudburst, which was subsequently adapted as a motion picture starring Academy Award winning actors Brenda Fricker and Olympia Dukakis. Original plays premiered by the company include Splinters by Lee-Anne Poole and A Rescue Demonstration by Stewart Legere and Katy Swift.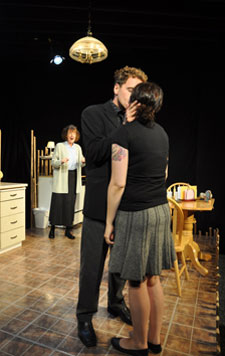 Vanessa Walton-Bone, Stewart Legere and Stephanie Macdonald in Splinters.
Photo: Shaun Simpson
Plutonium also produces Halifax debuts of acclaimed plays, such as Down Dangerous Passes Road by Michel Marc Bouchard and Fat Pig by Neil Labute; and co-presentations with Halifax companies like Zuppa Circus, Fluffer, and The Doppler Effect.
Plutonium is known for edgy fare, including its popular theatre series The Sex Festival which debuted The Asshole Monologues by Jane Kansas and The Obedients by Lee-Anne Poole.
Last updated 2021-07-28