Massey, Raymond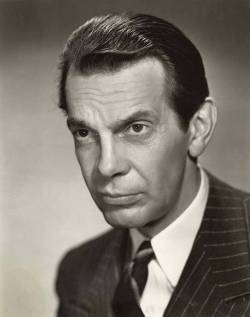 Raymond Massey
Actor born in Toronto, Ontario in 1896, died in Los Angeles, California in 1983. He studied at Appleby School, the University of Toronto, and Balliol College, Oxford University. He was the brother of Vincent Massey, who exercised considerable influence on the development of the arts in Canada as Governor General from 1952-59, and who conceived of and built Hart House Theatre in 1919. Raymond Massey served in both WWI and WWII, and was wounded in both wars.
He enjoyed a long and celebrated career in Canada, England and the United States. He was already doing theatre as an amateur at age 17, and soon joined the company at Hart House Theatre at the University of Toronto. He began his professional career in London at Everyman Theatre in 1922 as Jack in Eugene O'Neill's In the Zone. He made his Broadway début in 1931, and is probably best remembered for his portrayal of Abraham Lincoln both on stage and in film. He excelled in leading roles in New York revivals of Bernard Shaw's The Doctor's Dilemma (1941), Candida (1942), and Pygmalion (1946).
Massey also performed in seventy films, and on television; he gained his greatest celebrity in the 1950s and 60s when he played the wise medical mentor, Dr. Gillespie, on the NBC TV series Doctor Kildare.
He became an American citizen in 1944. Two of his children, Daniel Massey and Anna Massey, were prominent English actors.
Source: Robertson Davies. "Massey, Raymond Hart," The Oxford Companion to Canadian Theatre, eds. Eugene Benson and L.W. Conolly. Toronto: Oxford UP, 1989.
Last updated 2021-04-20