Rocks
Written and produced in 1932, Rocks: A Play of Northern Ontario was Herman Voaden's tenth play and the first of his multi-media "symphonic expressionist" dramas.
He adapted Rocks from his realistic one-act Wilderness, premiered at Yale University in 1931 and staged at Queen's University in February of 1932. In both plays, the young school teacher Mary falls in love with Blake, a trapper and hunter in a small isolated northern Ontario community. As the short play progresses, Mary gradually comes to realize what the audience and Blake's mother already know: that Blake has perished in a snowstorm attempting to return to her. Mary nevertheless accepts her dead lover's mystic vision of the North as her own: "It will be my land. I'll belong to it."
For the April 22 and 23, 1932 premiere of Rocks at the Central High School of Commerce in Toronto, Voaden "abstracted" Wilderness, stripping the play of its realistic acting and setting. He added music, lyric speech, stylized movement and dance, and particularly varied coloured lighting (the personified North) to express the theme of the transcendence of death and oneness with nature he wanted the play to convey.
Rocks was Voaden's most often staged play, with six performances in 1932 and revivals for the 1933 Dominion Drama Festival competitions and Voaden's Queen's University summer play production course in 1934. The supportive 1932 critical reaction to Rocks encouraged Voaden to develop his non-realistic symphonic expressionist production style over the next decade.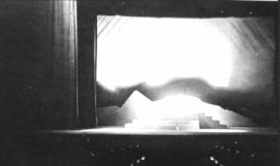 Commentary by Anton Wagner, York University
Last updated 2021-06-11