Shakespeare by the Sea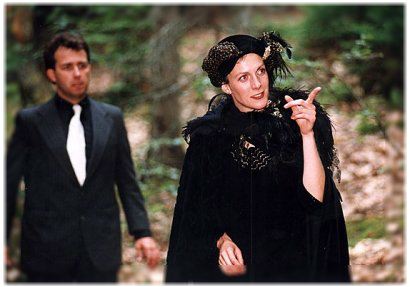 Shakespeare by the Sea's 1998 production of Richard III with David Petrie and Catherine Taylor-Williams (Photo: James Ingram)
Company in Halifax, Nova Scotia, which, since 1994, presents Shakespeare outdoors at the Cambridge Battery in Point Pleasant Park, and in site specific locations during the summer. After an experimental run of Twelfth Night, performed to over 2500 spectators over five performances, the company decided to incorporate. Artistic director and co-founder since 1994 to his death in 2005 was Patrick Christopher-Carter. His wife and co-founder of the company, Elizabeth Murphy, was AD from 2006 to 2010, and since 2011, co-artistic director with Jesse Maclean.
Part of the company's mandate is to educate as it entertains, and to give audiences a taste for the entire Shakespeare canon. Since its inception, Shakespeare by the Sea has presented over eighty productions, including A Midsummer Night's Dream (1995, which played to 30,000 people); The Comedy of Errors; Hamlet (in and around the city's Martello Tower during hideous weather); Romeo and Juliet; Macbeth; Much Ado About Nothing; The Little Prince; and Richard III. In 1999 the Company presented Titus Andronicus, Waiting for Godot, Taming of the Shrew and King Lear ; and in 2000, Measure for Measure and Julius Caesar. In 2000 the troupe toured its production of Romeo and Juliet to the stunning outdoor amphitheatre overlooking the English Channel, the Minack Theatre in Cornwall, England. Presentations are often sold out.
Shakespeare by the Sea has a black box space at the Park Place Theatre, which functions as a rain venue during the summer, and a site for more experimental productions during the winter, including Nevermore in 2012. It is also the home for the The Studio, which offers year-round theatre education.
Shakespeare by the Sea is funded by government and private enterprise.
Website: www.shakespearebythesea
Last updated 2019-09-29