Shakespeare by the Sea Festival, Newfoundland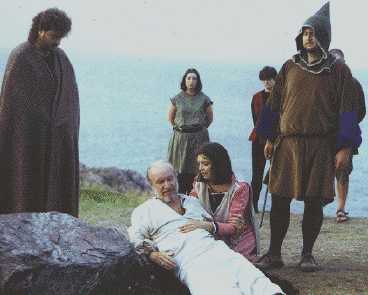 Shakespeare by the Sea's 1994 production of King Lear with John Moyse as Lear and Damhnait Doyle as Cordelia
Company in St. John's, Newfoundland and Labrador, founded in 1993 by a group of theatre students at Memorial University, calling themselves "Dick's Kids" after English professor and actor Richard Buehler, to perform Shakespeare outdoors and to present Newfoundland theatre talent. They also saw, as their mandate, getting young people involved in theatre.
Initially the company performed on the cliffs overlooking Logy Bay. In 1996 the Festival expanded into the courtyard of Murray Premises (a National Historic Site) and in 1997 added the LSPU Hall to the list of its venues. In 1998, the company scaled back and performed one work (down from the previous season's four) at two locales, Logy Bay and Bowring Park. In 1999, they performed at the Cape Spear National Historic Site (Much Ado About Nothing) and formed a Youth Company which deconstructed and created a work around the Peter Pan story. After auditions, nine actors, aged 12-16, conceived, wrote and performed this work, entitled Oh, Grow up!.
Among its other productions are King Lear, Macbeth, Romeo and Juliet, Twelfth Night, The Tempest, Hamlet (played in tandem with Tom Stoppard's Rosencrantz and Guildenstern are Dead and Paul Rudnick's I Hate Hamlet). In 2019, the company performed A Comedy of Errors in the Fortis Courtyard and Amphitheatre of "The Rooms" in St. John's.
In 2021, when the Covid-19 pandemic closed theatres across Canada and around the world, the Company performed a Newfoundland, folktale version of Pericles, Prince of Tyre on-line via Zoom (featuring a cast from across the country), and Shakespearean Shorts, a series of scenes and monologues.
The current Artistic Director is Paul Rowe.
Website: www.shakespearebytheseafestival.com
Last updated 2021-10-12