Shakespeare in the Ruins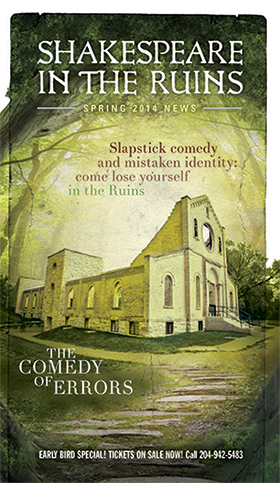 Theatre company, based in Winnipeg Manitoba, founded in 1993 by a group of friends and colleagues, including Gene Pyrz, Lora Schroeder, Marc Beaudry, Katie R. East, Ann Hodges, Grant Guy, Arne MacPherson, Rick Derek Aasland, Michelle Boulet, B. Pat Burns, Lee J. Campbell, Matt Moreau, Maggie Nagle, Debbie Patterson McPherson, and Rick Skene. Initially functioning as an Equity Co-op, SIR was incorporated in 1995, and operated under the Independent Theatre Agreement.
The annual June production of a play by Shakespeare takes place in the ruins of a Trappist Monastery on the outskirts of St. Norbert. Promenade performances incorporate the environment of the ruins; a mixture of contemporary and traditional styles with a strong textual orientation; minimalist production values; and multiple-role, cross-gender casting.
Site-specific productions have also taken place on Winnipeg's Dreman Building parkade rooftop, Gaboury-Lagemodiere Park in St. Boniface, and Assiniboine Park.
The first production in the ruins was Romeo and Juliet. In 2016, SIR produced Richard III with Debbie Patterson, who has multiple sclerosis, playing Richard (dir. Christopher Brauer). In 2021, when the Covid-19 pandemic closed theatres across Canada and the world, SIR launched a digital production of A Winter's Tale with Cercle Molière; and a digital production of Shakespeare's Will by Vern Thiessen, with Debbie Patterson performing in a wheelchair.
SIR has also developed and performed one-hour, four-actor touring productions: Stripped-Down Macbeth; Stripped-Down Romeo & Juliet; Stripped-Down Hamlet; and A Stripped-Down Midsummer Night's Dream, which have travelled to high schools throughout Manitoba, Western Ontario and Eastern Saskatchewan.
SIR develops and presents new works by Manitoba playwrights, including world premieres by Rick Chafe (The Odyssey, 2000) and Debbie Patterson (Head, 2006).
Current Artistic Director is Rodrigo Beilfuss.
Source: http://shakespeareintheruins.com
Last updated 2021-10-12