Shakespeare on the Saskatchewan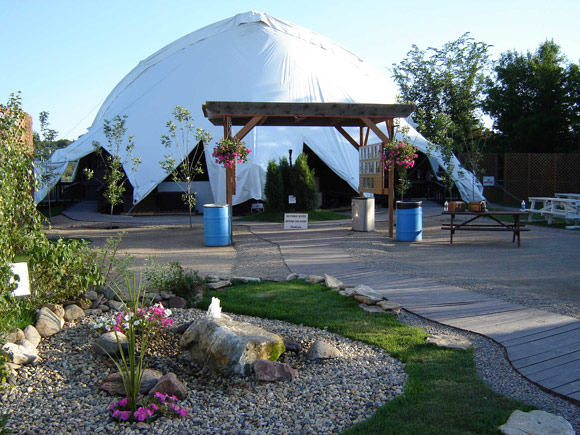 Company in Saskatoon, Saskatchewan, founded in 1985 by Gordon McCall. Henry Woolf was Artistic Director from 1991 to 2001, followed by Mark von Eschen to 2013, who directed twenty-eight productions. Will Brooks was Artistic Producer up to and including an abbreviated 2021 season. Yvette Nolan and Skye Brandon are Co-interim Festival Curators for the 2022 season.
Two plays typically run in repertory every summer in two tents on the edge of the South Saskatchewan River. In 2020, the Festival completed the construction of a concrete frame for an amphitheatre, its use precluded by the Covid-19 pandemic which closed theatres across Canada and the world.
The Company's mission is to make Shakespeare's plays accessible to a wide audience through non-traditional, innovative productions using local actors. For example, in 1994 Hamlet was presented in a futuristic setting, in tandem with Tom Stoppard's Rosencrantz and Guildenstern are Dead. Other productions include: The Taming of the Shew and The Merchant of Venice (both in 1998); The Winter's Tale and Richard III (2000); A Midsummer Night's Dream and Antony and Cleopatra (2009); Hamlet and As You Like It (2012). For the summer of 2018, the Company again presented Hamlet (dir. Kelli Fox), and The Merry Wives of Windsor (dir. Greg Ochitwa), with the addition of a puppet version of Titus Andronicus in partnership with Stumped Productions (dir. Will Brooks). The abbreviated 2021 season featured Macbeth.
The company also presents off-season and non-Shakespeare productions, including, notably, the North American premiere of Harold Pinter's Ashes to Ashes.
Website: www.shakespearesask.com
Additional information provided by John Thronberg and Jeff Rogstad.
Last updated 2021-10-12