Symphony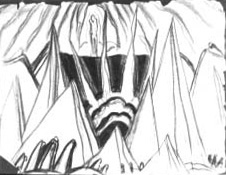 Written in 1930, Herman Voaden's fifth play, Symphony: A Drama of Motion and Light For a New Theatre, remains as one of the outstanding Canadian symbolist dramas of the 20th century. Completely without dialogue, the play is more akin to a scenario for a dance drama or an expressionist silent movie.
Symphony is a quest drama that portrays an Everyman figure on a spiritual journey from the materialist frenzy of city life ("A Large Eastern City")through Canadian nature ("The Northern Wilderness", "Fishing Village on a Northern Lake" and "A Prairie Farm") concluding in Man's death and mystical oneness with nature in the fifth movement, "The Mountains."
The co-author of Symphony was Lowrie Warrener (b. Jan. 29, 1900; d. Feb. 8, 1983), a protege of the Group of Seven, one of Canada's first abstract painters, and a noted stage designer in Toronto. Voaden and Warrener collaborated on Symphony during a two-month trans-Canada train journey from Northern Ontario to British Columbia in the summer of 1930. Their intent was to interpret artistically the background of the Canadian natural environment and its influence on human character.
Voaden's collaboration with Warrener on Symphony alerted him to the vital use of light and darkness as a dramatic component of stage action. With its synthesis of a metaphysical theme and a non-realist multi-media form, the play is a forerunner of the "symphonic expressionist" dramas written and produced by Voaden between 1932 and 1942. Requiring a symphony orchestra, a trained corps de ballet, and an "ample and well equipped stage, with exceptional lighting facilities," Symphony was clearly beyond the capacities of the then contemporary Canadian amateur stage (and probably even of the American professional theatre) and was never produced.
Commentary by Anton Wagner, York University
Last updated 2021-06-11