Théâtre Biscuit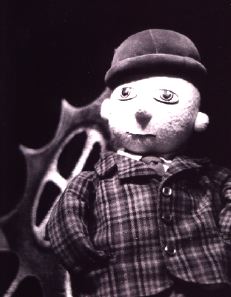 Un Petit Bonhomme de Chemin, Théâtre Biscuit, 1996 (photo: Benoît Dubois)
Puppet theatre company in Montreal, Quebec, founded by Vladimir Agéev and Benoît Dubois in 1990. They presented works which were not always just for children.
Agéev, who studied with several puppetry institutions and worked with many others in Europe, was working at a puppet store in Montreal when he arranged to mount a small production for the store's clients. Dubois was giving Agéev courses in French via theatre. As Agéev had no money to pay for the courses, Agéev taught Dubois Russian and a professional partnership formed. Soon, they chose a pocket-sized theatre in Old Montreal and mounted Parade, which won the Association québécoise des critiques de théâtre's award for best children's production of the year.
Since then, the Company presented several productions a year and housed the tours of several others. It also toured its productions (like Concert) around the country and abroad.
In 1994 Théâtre Biscuit moved to a slightly larger house, also in Old Montreal, and performed on weekend afternoons for children and adults.
They presented puppetry as art form, mounting textured, complex pieces whose sources were diverse and international.
Profile by Gaetan Charlebois
Last updated 2021-11-30