The Other Guys Theatre Company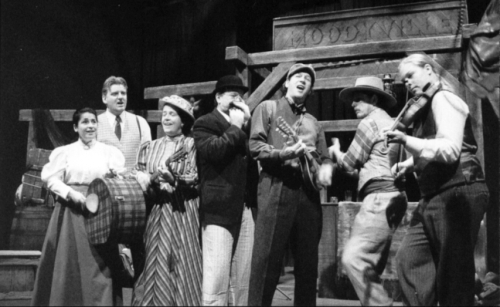 Moodyville Tales
L. to R.: Patricia Leger, John Gogo, Colleen Eccleston, Craig Moddle, Kelt Eccleston, Mark Hellman and Adam Iredale.
Based in Victoria British Columbia since 2000, The Other Guys Theatre Company is an evolution of the Five White Guys sketch comedy troupe. The company was created to provide employment for professional artists and facilitate an outlet for seasoned and emerging artists to collaborate in the Victoria area. The Other Guys produces new Canadian works primarily musicals. Past productions have included the premieres of SEX: the musical by Ross Desprez, The Vinedressers (opera) by Tobin Stokes, Moodyville Tales by Ross Desprez, Tortoise Boy by Charles Tidler, and The Ballad of Jim Pane by Ross Desprez.
In 2007 the Company presented Hockey Mom, Hockey Dad by Michael Melski. Its musical revue, Good Timber: Songs and Stories of the Western Logger premiered in July 2010 at the Royal BC Museum in Victoria, and toured the province in 2012. A new opera, entitled Rattenbury is based on the infamous murder dramatized by Terence Rattigan. It opened in the Crystal Ballroom of the Empress Hotel, Victoria in 2012, starring acclaimed tenor, Richard Margison with the Victoria Symphony. In 2016, The Other Guys premiered the musical revue, Flotsam & Jetsam: Life on the West Coast. In March 2019, the Company presented its tenth premiere, called I Walked the Line by Allan Morgan, about unions, treachery, and solidarity. SlugFest, a musical comedy by Ross Desprez and Tobin Stokes premiered in 2019. It is set in a slug-infested Vancouver Island community, where the residents discover that slug slim as a medical miracle, and are determined to reap the harvest, despite environmental consequences.
The artistic director is Ross Desprez; the musical director is Tobin Stokes.
Web site: www.otherguystheatre.ca
Last updated 2020-07-10