Theatre Beyond Words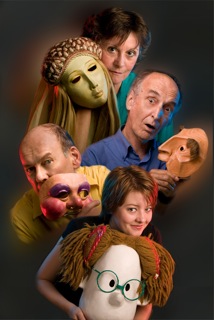 TBW creative team
From top to bottom: Robin Patterson, Harro Maskow, Terry Judd, Katharine Dubois
Theatre company located in St. Catharines, Ontario, whose work places "particular emphasis on non-verbal, mime, physical, visual or image-based theatre." It was formed in 1977, and celebrated its 35th birthday in 2012. Five of its six founding members came from the Canadian Mime Theatre (1969-1979), having resigned in a body when the board of that company replaced its artistic director, Adrian Pecknold, with another in whom they had no confidence. Within months, they had a name, derived from a lengthy sketch, "Beyond Words," which they had performed on a world tour the year before, a mandate, an agent, a constitution, a board of directors, and secure funding. The absence of the word "Mime" in the name gave the company freedom to explore many forms of physical theatre, without and with text. Three of the founding members are still active in the company: Harro Maskow, formerly associate artistic director of Canadian Mime Theatre, Robin Patterson, present Artistic Director, and Terry Judd, Co-Artistic Director.
The company is best known for Potato People, a series of fourteen non-verbal plays for children and families, performed in larval masks. Its genesis was a brief sketch in which Bud the Dog teaches toddler Nancy Potato to fetch. The first of the series, Nuthin' But Trouble, was first produced in 1977. In addition the company has created twenty plays for both general and mature audiences in various physical theatre styles including its own brand of mask, mime, clown and commedia dell'arte and retains many in the repertoire.
All of their shows tour widely; they have performed in Canada, the USA, Spain, France, Germany, Portugal, Russia, Latvia, Ukraine, Georgia, Moldavia, Azerbaijan, Japan, Taiwan, Hong Kong, Singapore, Korea, Australia and Argentina. They have frequently performed in theatre festivals.
Many of their shows have been created in collaboration with other artists: for example, Tourists (1984) with director Peter Froelich; The Rites of Spring (1987) with Theatre Smith-Gilmour; The Boy Who Could Sing Pictures (1990), with the playwright John Lazarus; Night Train to Foggy Bottom (1990) with Coad Canada Puppets; Imaginarius (2005), with the Omar Alvarez Puppet Company of Argentina. While touring in Galicia in northwestern Spain, the company learned that the celebrated Galician poet, Castelao, had written a play for masks, Os vellos non deben de namorarse. Translated into English, and developed in collaboration with the commedia dell'arte specialist Laurie Stephen, it became Silly Old Men Ought Not to Fall in Love (2004). In 2009 the company began collaborating with the Shaw Festival in the creation of a physical theatre adaptation of Oscar Wilde's short story, "The Canterville Ghost." Their latest collaboration is a workshop with Tottering Biped Theatre (a physical theatre company based in Burlington, Ontario) and is a multi-media adaptation of a graphic novel.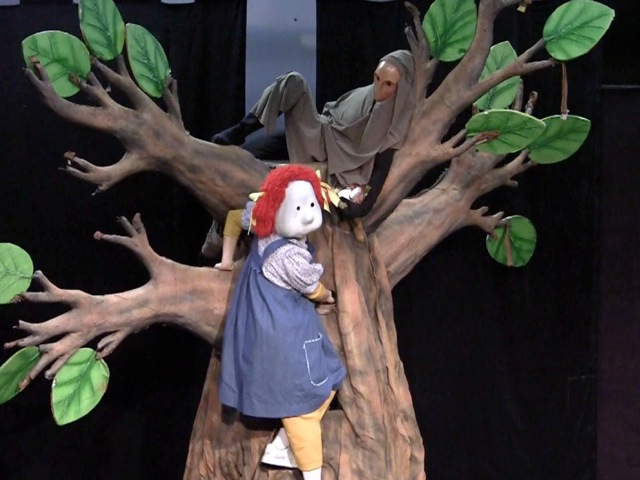 Nancy Potato and George Beanstalk in "Tales from the Garden", 2011.
Theatre Beyond Works received the UNIMA Citation of Excellence Award in 1987 for Potato People. Imaginarius won the Best Play for Children in 2006/2007 at the GETEA Annual Awards in Buenos Aires, Argentina. TBW was the first Western theatre company invited to play at the National Theatre of Japan in 1979.
Since 1982 Theatre Beyond Words has been the Resident Theatre Company at Brock University in St. Catharines, and is a Professional Affiliate of the Marilyn I. Walker School of Fine and Performing Arts. Members of TBW's Artistic Committee teach mime, mask, clown and physical theatre courses at Brock and at Niagara University in Niagara Falls, New York. The company also offers workshops in Larval Mask, Expressive Mask and Theatrical Clown.
Since 2006 TBW has been mentoring a young company, Sprouts, in visual theatre collective creation. Sprouts was challenged to reinvent the Potato People style of mask performance. Their first show was Potato Chips (2006) composed of scenes ("chips") from the Potato People series. Subsequently, members of the young company have developed a play for children, Tales of the Garden (2011); another play on adult themes, Tales of the City, is in development.
TBW also produced an annual Wednesday Playwriting Salon series from 2006 to 2012, in which new playscripts by local playwrights were given a reading by actors, followed by audience feedback and discussion.
Website: www.theatrebeyondwords.ca
Profile by Robert Nunn.
Last updated 2021-12-01