Wishbone Theatre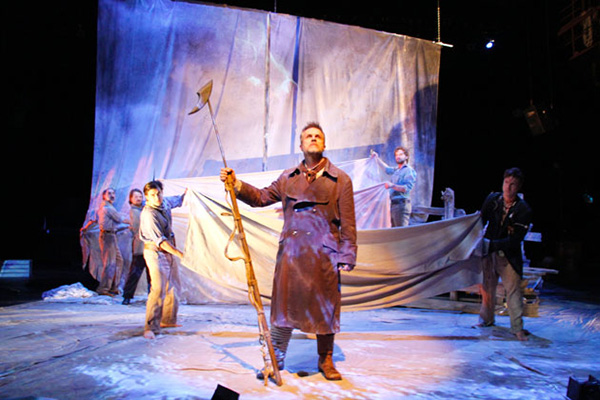 Production photo of Or the Whale
Independent theatre company, based in Edmonton Alberta, founded in 2010 by actors Michael Peng and Chris Bullough, who were its co-artistic directors. Its mission was to engage experienced actors in the exploration of powerful questions through multidisciplinary theatrical forms, in order to engage new audiences.
Wishbone Theatre's first production was Bashir Lazhar by Evelyne de la Chenelière in a translation by Morwyn Brebner, with Michael Peng in the lead role. It was launched at the Edmonton International Fringe Festival in 2010, and won a Sterling Award. It subsequently travelled to the Edinburgh Festival to critical acclaim, and then toured Europe. In 2011, it played at MT Space's Impact II Festival.
For its inaugural season in 2011-12, Wishbone Theatre produced Falling: A Wake by Gary Kirkham, directed by Peng; and Waiting for Godot, directed by Bullough, both in the TransAlta Arts Barns.
Wishbone presented Parlour Song by British playwright Jez Butterworth at the Edmonton Fringe Festival in 2012, with Michael Peng, Dave Clarke, Elinza Pretorius, directed by Nancy McAlear.
Chris Bullough adapted the massive novel, Moby Dick as a play for his MFA directing thesis at the University of Alberta. Or the Whale premiered at the Studio Theatre in May 2016, with Michael Peng as Ishmael (designed by Narda McCarroll). In her review, Liz Nicholls explained that its strength is that it did not attempt an explication of Melville's novel: "It works the way memory works, like a haunting. Extreme action is interwoven with ghostly tableaux. Ominous silence is broken by the eerie creaking of wood on wood, strange hums and roars, the ringing of ship's bells, metallic thunder and sounds like the splintering of the world. Evocations of sea and sky flicker across a sail that conjures the eerie divide between man and the mysteries of our existence" (Edmonton Journal 17 May 16).
Bullough's play, Rig Pig Fantasia was conceived for the Edmonton Fringe Festival in August, 2018. In a collage of myth, dance, three conflicting/conflicted characters, and vituperative speech, it condemns the Oil Sands for an impending environmental apocalypse.
In 2019, Wishbone presented Bluebirds by Vern Thiessen at the Edmonton Fringe, directed by Bullough -- the moving story of three WWI nurses caring for the sick and dying in a French hospital.
Profile by Anne Nothof, Athabasca University
Last updated 2022-03-09