Women Making Scenes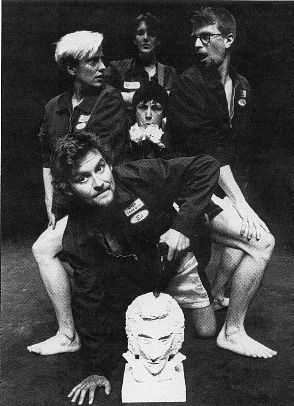 The Women Making Scenes production of
F**k Mozart (1994; Photo: Greg Tjepkema)
A collective of young women directors dedicated to creating controversial works for a young, alternative audience. It was founded in 1992 by Stacey Christodoulou (Toronto/Montreal), Katrina Dunn (Vancouver), Martha Hancock (Ottawa), Lise Ann Johnson (Montreal), and Sarah Stanley (Toronto).
The collective's first work, Literal Madness: Erotic Anarchy in the Crumbling City, played in Montreal and was typical of the group's output: it was composed of four separate playlets inspired by the writings of Kathy Acker, Andrea Dworkin and Dorothy Parker.
They also presented F**k Mozart: Five Acts of Formal Disobedience, a series of theatrical experiments (1994).
The group disbanded in 1999.
Profile by Gaetan Charlebois
Last updated 2019-11-08