Ziegler, Joseph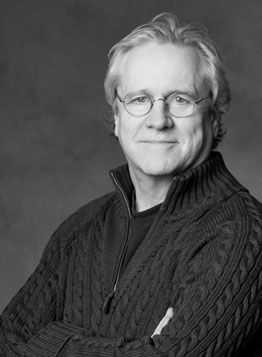 Joseph Ziegler
Actor, director, and teacher, Joseph Ziegler was born in Minneapolis, Minnesota in 1953. He graduated with a BA in theatre from the University of Minnesota, and from the National Theatre School of Canada in 1979, under the tutelage of Douglas Rain, and where he met his wife, Nancy Palk.
After relocating to Toronto, Ziegler acted in October Soldiers by Alun Hibbert at Theatre Passe Muraille, and in the CBC radio version of Thornton Wilder's Our Town, starring Lorne Greene. Since then, he has been a regular actor and director in Toronto theatres, including the Toronto Arts Theatre, Tarragon Theatre, Factory Theatre (George Walker's Love and Anger 1990). More recently, he has played at Canadian Stage in The Clean House (2008).
Joseph Ziegler has been a member of the Shaw Festival ensemble, performing in A Respectable Wedding (1980), Camille (1981), The Voysey Inheritance (1988). From 1984-1987 he acted at the Stratford Festival, playing Hotspur in Henry IV Part One, Edgar in King Lear, Sir Andrew Aguecheek in Twelfth Night, Claudio in Measure for Measure, Posthumus in Cymbeline, and Trofimov in Chekhov's The Cherry Orchard. For the Stratford 2016 season, he played the delusional father, Joe Keller, in All My Sons; Duncan in Macbeth; and Vilhelm Foldal in John Gabriel Borkman.
He has played in theatres across Canada, including the Globe Theatre, Belfry Theatre, Manitoba Theatre Centre, and two seasons at the Citadel Theatre, when he played Jacques in As You Like It, and Hamlet (dir. Robin Phillips).
In 1991, he was invited by Phillips to direct Tete à Tete and in 1992 The Diary of Anne Frank at the Citadel. Since then, he has directed Joanna Glass's If We Are Women for Theatre New Brunswick (1995), remounted at the Grand Theatre and the National Arts Centre in 1996. Other directing credits include: Three Tall Women (1997) and Homeward Bound (1999) at the Grand, Love's Labour's Lost (2003) for the Resurgence Theatre Company, Betrayal (2004) at Neptune Theatre, How I Learned to Drive (1998) and Patience (1999) for Canadian Stage, and seven productions for the Shaw Festival: The Two Mrs Carrolls (1997), The Shop at Sly Corner (1998), Widowers' Houses (2003), Ah Wilderness (2004), Major Barbara (2005), The Heiress (2006) and Getting Married (2008). For the Stratford Festival he directed Paul Gross in Hamlet (2000).
Ziegler is a founding member of Soulpepper Theatre Company in 1998, and has directed many of its productions: Our Town (1999, 2006, 2007); Hamlet (2004, starring Albert Schultz); Present Laughter (2001), King Lear (2006), Mary Stuart (2007), Ring Round the Moon (2008), Long Day's Journey Into Night (2012).
He has also acted for Soulpepper: Scrooge in A Christmas Carol (2001 and 2006); Absolutely Chekhov (2002); Waiting for Godot (2004); The Wild Duck (2005); Blithe Spirit (2007); The Time of Your Life (2007, Dora Mavor Moore Award); Uncle Vanya (2008); Death of a Salesman (2010, with Nancy Palk); and A Tender Thing (2014, with Palk playing an aged Juliet to his aged Romeo).
His many television credits include: Street Legal, North of 60, and ENG.
He has taught and directed productions of Shakespeare's works at the National Theatre School and at the George Brown Theatre School.
He and Nancy Palk have three sons.
Source: David Gardner, "Joseph Patrick Ziegler," www.thecanadianencyclopedia.ca
Profile by Anne Nothof, Athabasca University
Last updated 2016-08-29