Black Theatre Canada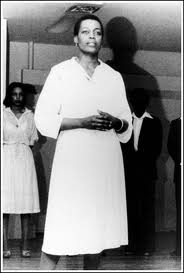 Vera Cudjoe
Theatre company founded in 1973 in Toronto Ontario by Vera Cudjoe, who had immigrated from Trinidad. It was dedicated to the development of an Afro-Caribbean Canadian performance aesthetic, and produced the works of Caribbean writers such as Trevor Rhone, Roderick Walcott, Daniel Caudieron, and Mustapha Mature. The company also brought Caribbean performers to Toronto, such as Paul Keens Douglas and the poet Louise Bennett, the author of the post-colonial satirical poem "Colonization in Reverse." Bennett's performances popularized the Jamaican creole dialect which became the basis for the dub poetry of D'bi.Young Anitafrika, and helped to develop a generation of Black theatre artists, including ahdri zhina mandiela, who founded the Black theatre company "b current" in 1991.
Black Theatre Canada assisted in the development of Anansi Tales by Amah Harris in 1977, using the stories and rhythms of African folk tales. It staged A Raisin in the Sun by Lorraine Hansberry in 1978, and produced Caribbean Midsummer Night's Dream (dir. Azra Francis), incorporating the images and sounds of carnival, mas, and calypso. This production won a Dora Mavor Moore Award in the category of Innovation and Artistic Excellence and was an historic breakthrough in the area of non-traditional and colour-blind casting.
The company developed and presented new Canadian plays, including: Layers by Vilbert Cambridge, Changes by Peter Robinson, the collective creation Bathurst Street, One More Stop on the Freedom Train, and The African Roscius (Being the Life and Times of Ira Aldridge) by Robin Breon.
In 1986, BTC helped to initiate and organize the Arts Against Apartheid Festival which brought to Toronto Archbishop Desmond Tutu from South Africa and international human rights activist and performer Harry Belafonte. As part of its contribution to the festival, BTC presented Under Exposure by Lisa Evans, which emphasized the women's struggle against apartheid in South Africa.
The company folded in 1988.
Sources: Robin Breon. "The Growth and Development of Black Theatre in Canada: A Starting Point," Theatre Research in Canada 9.2 (Fall 1988).
Ric Knowles. "To be Dub, Female, and Black: Towards a Womban-centred Afro-Caribbean Diasporic Performance Aesthetic in Toronto," Canadian Theatre Review 33.1 (2012): 78-105.
Last updated 2020-05-13