Christodoulou, Stacey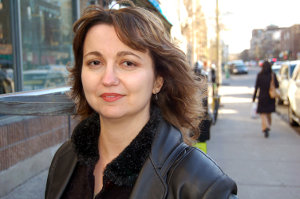 Quebec-based director working in French and English, born in Kassel, Germany in 1965 to "guest workers."
She is Artistic Director of the alternative company, The Other Theatre, in Montreal, and with them has directed Arrabal's Fando and Lis, Medeamaterial (a deconstruction of the Medea legend), Andrea Dworkin's The Dark and Fassbinder's Pre-Paradise, Sorry Now, for which she was nominated as best director for the Masques Awards (the first Quebec anglophone to be nominated outside the Best Anglophone Play category). She has also directed Peter Handke's Kaspar, and an installation piece called "Recreation" for Counterposes, an installation event organized by Oboro Gallery and Display Cult. Her work, Collision/Atomic Reaction, appeared in the 1999 Festival de Théâtre des Amériques (now Festival TransAmériques), and may have been her most accomplished work to date, combining a complete synthesis of image, text and theatrical philosophy. The work went on to win Montreal English Critics Circle Awards for the production and director.
She has also participated in the women's directing collective, Women Making Scenes, for which she co-directed Literal Madness and F**k Mozart.
Stacey Christodoulou also acts in the Montreal alternative and experimental theatre scene.
Last updated 2020-11-03